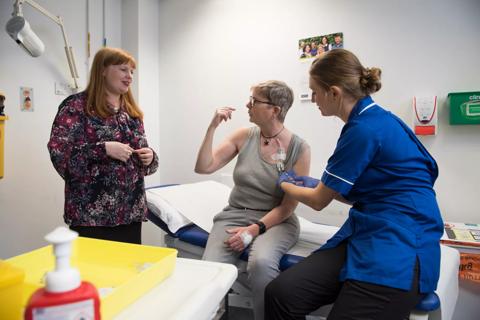 Your medical team will continue to check on you regularly to make sure your new immune system is working properly and to monitor any side effects.
Everybody's recovery is different and some people will need to visit the hospital more often, for much longer into their recovery.
The frequency of these appointments will decrease over time and eventually you will be seen yearly, to check everything is still ok.
Your medical appointments and contact details of your medical team can be tracked and saved using Anthony Nolan's free My Transplant Tracker mobile phone app.
Early recovery
After you leave hospital, you will have one or two check-ups with your medical team every week. They will:
assess your general health and how you are feeling
look for signs of infections or GvHD developing
check on other side effects and possibly alter your medication
test your blood to count your blood cells and check that your liver and kidneys are working well
flush and clean your central line
answer any questions or concerns you might have.
Blood transfusions – If your blood cell or platelet counts are low, your medical team may decide to give you one (or more) blood transfusions. This will be more likely in your early recovery.
Depending on the blood cancer or blood disorder you had, you may need to have irradiated blood. This is donated blood that is treated with radiation before it's given to you – this removes the white blood cells and reduces the chance of you having a reaction to it. Your medical team will give you a card to carry with you so that doctors know to give you this type of blood in an emergency.
Lymphoma Action has more information about blood transfusions on their website.
Later on...
You will probably have regular check-ups at the hospital but they will happen less often. At three months and one year after your transplant you may also have a bone marrow test (where a small bone marrow sample is taken and analysed) or a PET-CT scan. They are both used to monitor your progress and to confirm that your blood cancer or blood disorder has not returned.
Central line removal – Your central line can risk causing infection, so it will be removed as soon as it's no longer needed, normally a few months after transplant. Removing it is normally done at the outpatient clinic using a local anaesthetic. You may need a stitch or two to help the wound heal.
Hospital stay – Unfortunately you're likely to have some setbacks in your recovery and you may need to spend some time back in hospital. While your immune system is rebuilding, infections can be picked up very easily. This doesn't mean that your transplant hasn't worked – it's a natural part of your recovery that cannot always be avoided.
Longer term
No matter how long it's been since your transplant, you'll always have a point of contact, normally your clinical nurse specialist (CNS) or transplant coordinator.
You will have a full health assessment after every year. Your medical team will keep an eye on whether you're experiencing any late effects of transplant.
Vaccinations – During your transplant your immune system is replaced, which means the vaccines you had as a child will no longer work. You will be unable to have any vaccine that's based on a live virus or bacteria because they are unsuitable for people with a potentially weakened immune system – these include the TB and MMR (measles, mumps and rubella) vaccines.
Your transplant team and GP will schedule and give your new vaccinations to you. For some vaccines this normally happens at least six months after transplant but others are given after two years.
Your family should also consider having the seasonal flu vaccine every year. It can be given through their GP or local pharmacy.
At other times
There will be times when you need to have certain treatments or procedures. Some of these are important milestones in your recovery that show you are making good progress. Your medical team will try to arrange them alongside other appointments so that it's more convenient. However, others will only be needed if problems develop.
Specialist appointments – As well as more general health checks, you may also be referred to specialist doctors, who are experts in one type of treatment or part of the body. This often happens if you have GvHD that affects certain organs. You will also be advised to regularly see other specialists such as a dentist, optician and gynaecologist (if you have a vagina) so if any problems occur, they can be treated early.
Donor Lymphocyte Infusion (DLI) – If your chimerism (the proportion of blood cells that come from your donor compared to your own) is low, you could be given a 'top-up' of cells from your donor. This simple procedure is very similar to a blood transfusion.
Read more about DLI.
High dependency – At times you may need specialist care on a high-dependency or intensive care unit (ICU). These units offer essential care, support and close observation if you become very unwell.
It's ok to feel frightened, down or frustrated when returning to hospital – but it will enable your medical team to give you the best possible treatment and support. You can find out more and access extra support in the Recovery: mind section.
Information published: 02/09/21
Next review due: 02/09/24
Related links