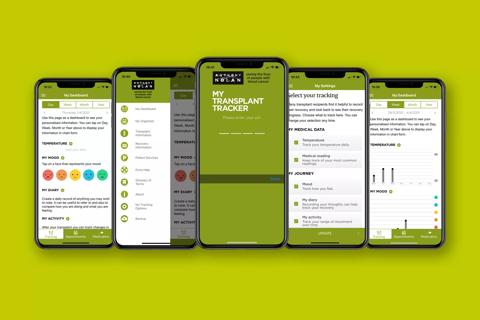 My Transplant Tracker app is the free patient app from Anthony Nolan that helps you manage your recovery after your stem cell transplant.


How does the app help?
One side effect you may experience following a stem cell transplant is something called 'chemo brain'. My Transplant Tracker helps you manage this by keeping everything in one place.
Feel organised
Easily add your medication and set notifications on your phone to remind you when to take them.
Store all your medical team's contact details in one place.
Set handy appointment reminders.
Keep track of progress
Record your mood, activity, sleep and diet, so you can discuss any concerns with your transplant team.
Record your white blood cell count, platelets, haemoglobin and other vital health information.
Feel informed
Access reliable information and support to help guide you through each stage of your transplant recovery.
Refer to our easy-to-understand glossary of medical terms.
Find where to turn to for extra support whenever you need it.
All our information is accredited by the Patient Information Forum's PiF TICK quality mark.
Feel safe
The My Transplant Tracker app is passcode protected. All the data you record is completely confidential and is only stored on your own device.
Search for Anthony Nolan My Transplant Tracker in the App Store or in Google play.
Information published: 30/04/21
Next review due: 30/04/24
Related links