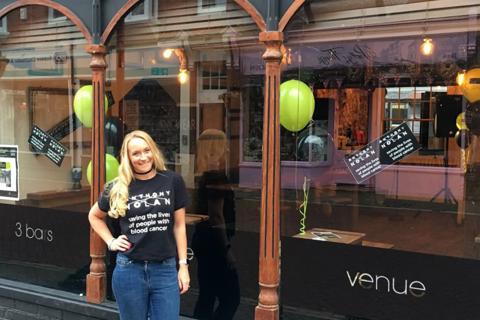 Setting up an online fundraising page is a fantastic way to allow friends, family and followers to support you! Whether you'd holding one big event, spreading your challenges out over months, or sharing your story – they can donate money to you from wherever they are.
You can set up a fundraising page with Just Giving.
How to make your fundraising page a success
1. Include your story
Make sure anyone who visits your page knows why you're fundraising for Anthony Nolan, and what it means to you. They're probably on your page because they care about you, so make sure they know it matters.
2. Let everyone know how you're going to fundraise, and remind them that their support will make an incredible difference.
Don't forget to add in that it costs £40 to add someone to the register – you can even include a target for how many people you'd like to add.
3. Set a fundraising target
People who have a target on their page raise up to 46% more! Make sure you're sharing how much you hope to raise, and when you're getting near that target. You're much more likely to smash your goals this way. Once you reach your target, you could set yourself an even higher goal. The sky's the limit!
4. Upload a photo
Or a whole album of photos! They make the page more personal, and help tell your story. If you're fundraising in support of, or in memory of, someone close to you, it could be really nice to include a photo of you together.
5. Include updates
If you're taking on a challenge, like 25 press-ups a day for 25 days, or preparing for an event, make sure you're updating your page and letting people know how you get on. You could raise around 6% more for every update you make, so make sure you're uploading photos and telling everyone about your progress.
6. Include your offline total
If you're also collecting funds offline using a sponsorship form, or a collection tin, make sure you update your page so family and friends can see the full total you've raised.
7. Share your page
Once your page is updated and ready to go, share it far and wide! Post it on your social media, send a mass email, text it to your mum, make a leaflet for your neighbour. The more people that know about it, the more people can get involved! Don't forget to share it a few times, especially when you've posted updates about how your fundraising is going to keep everyone in the loop.