We'll keep working, together.
Every year 2,200 people with blood cancer and blood disorders in the UK start their urgent search for a matching donor to give them a second chance of life.
Your support means we can work tirelessly to improve the lives of everyone who needs a stem cell transplant - to find their matching donor, improve their survival chances and support them every step of the way.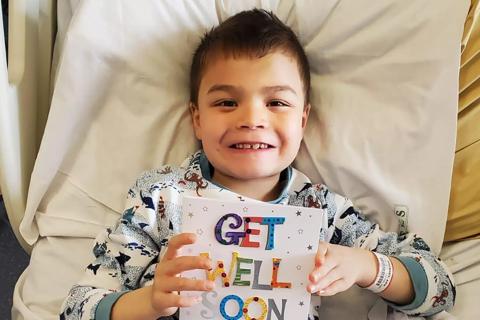 There's still work to be done
Alfie urgently needs a stem cell transplant to save his life. Because of his mixed Chinese and British ethnicity, this is not so easy. Alfie's still looking for his matching stem cell donor. Until everyone can find their donor and live well after their lifesaving transplant, we'll keep working.
Alfie's appeal
We're proud of what we have achieved so far, but we know we can always do more. This year has been another difficult year, but by working together, we've overcome some big challenges to deliver for our patients.
In this Impact Report you'll find our challenges and successes of 2020/21, including what we've learnt along the way and, crucially, where we need your help to make change happen. You can also see how we're delivering on our ambitious strategy, 'Together, We Can Save Lives', launched in 2019.
An introduction from our Chief Executive, Henny Braund MBE
Our main challenges
We still struggle to find the best possible match for everyone – particularly people from minority ethnic backgrounds. Increasing recruitment of young, male, and ethnically diverse donors is essential.
Just 50% of adult patients survive the first five years after a transplant, so we've made it a priority to fund and conduct research which will improve transplant outcomes.
Our specialised personal support and wider campaigning works to improve access to the physical and psychological support patients and families desperately need.
By harnessing our position as a donor register, research pioneer, and patient support provider, together we can bring about real, lasting change for patients.
Evolving through the pandemic
Our patients come first. The pandemic affected nearly every aspect of our work and our ability to save lives. While our initial response was to maintain our core services, this year we've evolved in response to the challenges we've faced:  
We introduced a cryopreservation service to freeze and preserve the viability of the donated stem cells for domestic and international use.  
We set up an emergency 24 hour 'handover hub' at Heathrow Airport to allow international couriers to handover or collect stem cells for the final lifesaving leg.
We invested heavily in digital recruitment platforms to keep growing the stem cell register, signing up 98% of donors online this year.
We provided additional lab services and lent genetic sequencing equipment to one of the UK's Covid-19 testing labs to support the clinical community.
We got creative with fundraising. Our committed supporters took on challenge after challenge through lockdowns and our Emergency Coronavirus Appeal raised £710,000.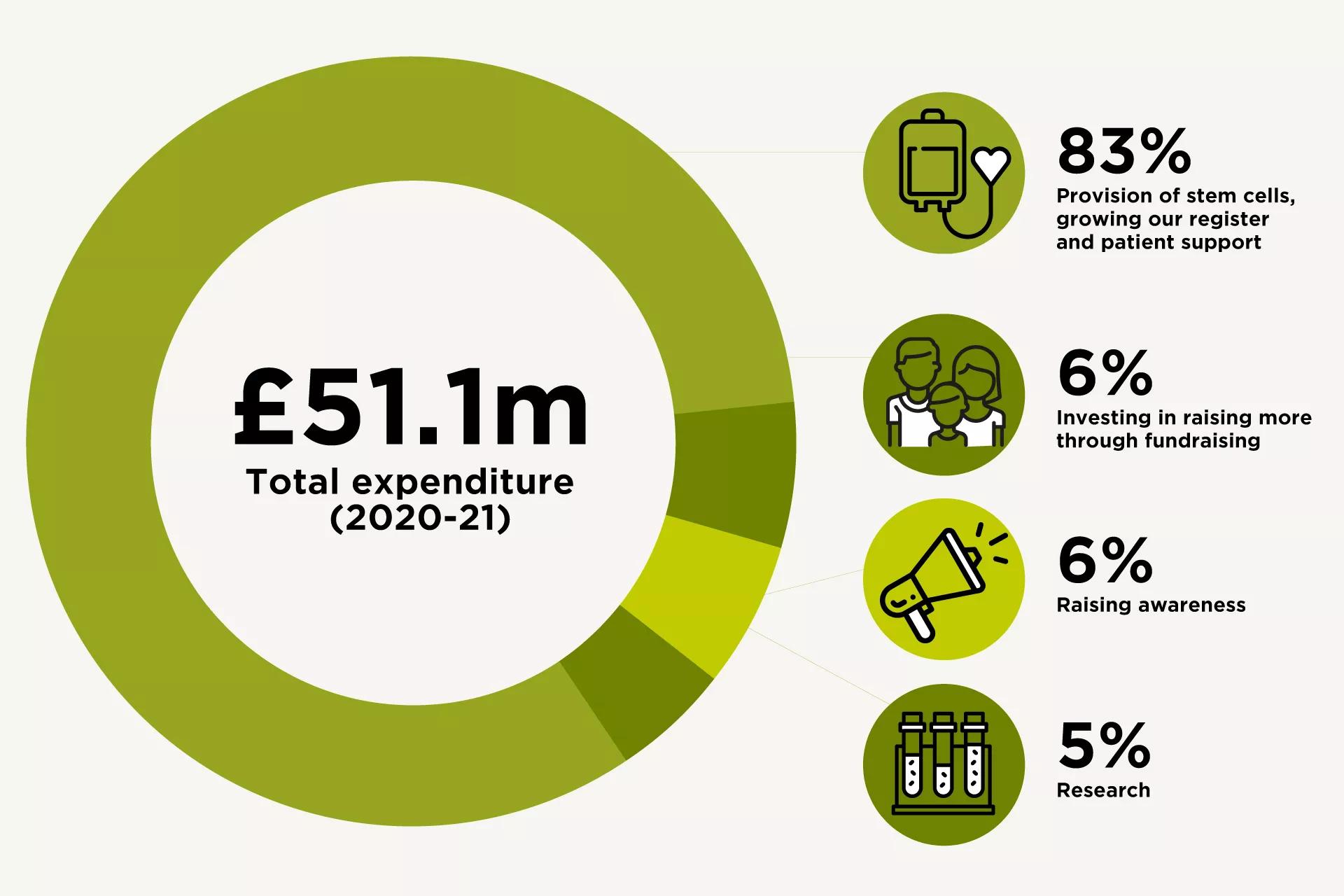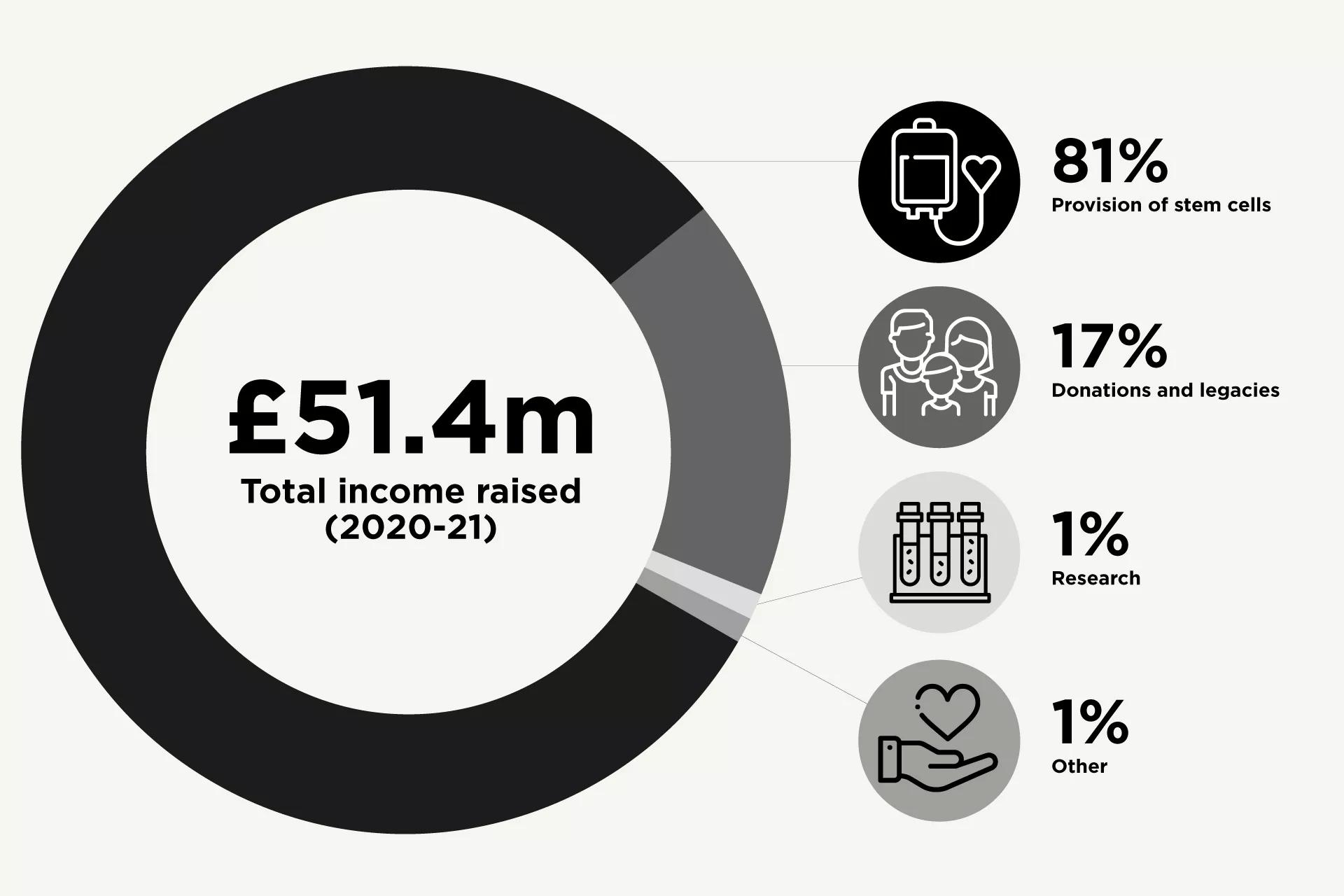 Making lifesaving matches happen
Making sure every patient is able to receive the right treatment is a complex issue. When it comes to finding the best possible stem cell match for patients, there are still great health inequalities.
What are the challenges?
+
-
Male donors aged 16-30 provide over half (58%) of all our donations but make up only 18% of our register. Younger, male donors provide better outcomes for patients – stem cell yield is higher and there is a reduced risk of post-transplant complications such as graft versus host disease (GvHD).
People from minority ethnic backgrounds are
significantly less likely to find the best possible matching donor than people from white Northern European backgrounds.
What are we doing about it?
+
-
We're working together with our partners to recruit younger, male donors, especially from under-represented ethnicities. We're championing alternative treatment options such as umbilical cord blood for patients who are unable to find a stem cell match on the register. Cord blood offers an 'off-the-shelf' treatment option for people with no suitable match on the donor register, helping us to speed up the delivery of lifesaving transplants.
We are thinking globally by working with international stem cell registers and developing technology to share expertise about what makes the best stem cell match and encouraging collaboration across borders.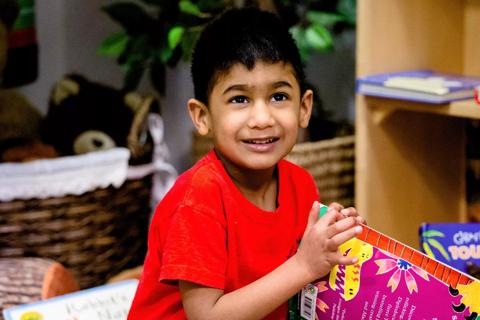 Waiting for a match
Veer desperately needed a stem cell transplant and on 2 December, what would have been Anthony Nolan's 50th birthday, he finally received a second chance of life.  

The search for a matching donor was made harder by his ethnicity. This inequality must change.
Read Veer's story
Making lifesaving matches happen
What we've done this year
We facilitated 1,270 lifesaving stem cell transplants, including 164 using cord blood.
We banked 433 cord blood units, bringing the total to over 10,000 units.
We grew our stem cell register to 851,430 potential donors, with 47,293 potential donors aged 16-30 added in the last year. Around 16% of our new potential donors recruited have come from minority ethnic backgrounds – our highest proportion to date.
We launched our Youth Ambassador Programme in partnership with the Duke of Edinburgh Award, giving people aged 16-18 a volunteering opportunity that focuses on donor recruitment and fundraising. Since September 2020, more than 70 ambassadors have started the programme.  
Marrow, Anthony Nolan's network of student groups across the country, continue to play a vital role in raising awareness in their universities. Even through successive lockdowns, 1,542 potential donors joined the register through 50 active Marrow groups.   
We've taken an active role within the World Marrow Donor Association to advocate for registers worldwide, including stewardship of the 'Search, Match and Connect' programme, a fast preliminary search facility to find the best-matched donor or cord blood unit worldwide.
Pioneering lifesaving research
Anthony Nolan is saving lives right now. But having more people on the stem cell register isn't the whole story – how do we ensure patients have the best possible chance of receiving a successful transplant so they can live and live well after treatment?
We know that research doesn't happen overnight. But, we also know it can have the biggest impact on patient survival and wellbeing in the future.
What is the challenge?
+
-
Only half of adult patients, and 74% of children, who undergo a stem cell transplant survive beyond five years. Even successful transplants come with years of treatment, debilitating late-effects and life-changing implications for patients and their families, which our research seeks to improve.
What are we doing about it?
+
-
Our research investigates two key areas: finding the perfect match for every patient and reducing post-transplant complications by developing new cell therapy treatments.
Finding the perfect match
Our Patient/Donor project, which has been running for over 20 years, is analysing the progress of over 2,500 transplants on genetic and cellular levels to better understand which donor characteristics influence patient outcomes. We continually use this ongoing research to inform and update key work around donor selection and recruitment.  
Already, this project has highlighted the importance of younger donor age and a matching CMV (cytomegalovirus) status for patients. The number of Anthony Nolan donors under 30 selected for transplant has increased from 69% in 2016 to 82% in 2021. This means more patients are getting the best possible match and the best possible chance of life after treatment.
Developing new therapies
We're providing donated stem cells and other blood products from our cohort of volunteer research donors, like Phil below, to scientists around the world. These are being used in the research and development of innovative new treatments for patients with a range of conditions. Any funds raised through our service are being reinvested to further our charity's work.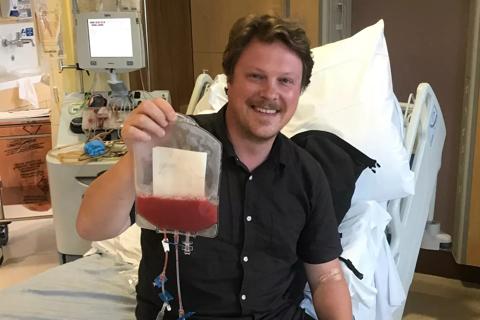 Donating to science
'It's great to make a small contribution that will overall make a massive difference. Research speeds up the whole process of learning and understanding.'

Phil, research stem cell donor

Pioneering lifesaving research
What we've done this year
Over 800 patients took part in our ongoing IMPACT clinical trials, an initiative joint funded with Leukaemia UK and NHS Blood and Transplant, hosted at the University of Birmingham's Clinical Trails Unit.
Together with ONK Therapeutics, we've invested in a new project to accelerate the development of new treatments using natural killer (NK) cells, aiming to reduce post-transplant complications such as relapse and graft vs host disease (GvHD).
We've initiated research to investigate and understand the impact of changes in transplantation due to Covid-19, such as cryopreservation of cells before they're transported to patients.
Being there for patients, now and always
We passionately believe that it's not enough to save a life – it's vital patients live the best possible quality of life, with access to the physical and psychological support they need.
What are the challenges?
+
-
Physical complications after treatment like GvHD can make recovery a long and strenuous process. Patients often need incredibly specific and long-term clinical care and support to manage their wellbeing.
Wellbeing, all the way from pre-diagnosis to post-treatment, can be challenging for patients and their families. During the pandemic, delayed treatment, time to transplant, increased shielding, and financial implications all added extra stress, pressure and worry to an already difficult time.
What are we doing about it?
+
-
Our dedicated patient services team and clinical specialists guide patients through every stage of their transplant journey. From helping prepare patients for a transplant, to the transplant day itself and beyond.
Knowing that every patient is different, we're seeking more personalised treatments to effectively tailor care and support. As well as campaigning to make patients' voices heard, we're using insight generated from our research work to change policy and practice to improve treatment and care.
We continued to work with the UK Stem Cell Strategic Forum to set the long-term strategy for the future of stem cell transplantation and advanced cell therapies. This is an opportunity to exchange ideas and expertise with clinicians, industry partners, policy makers, and patients to continue to identify any barriers to application and improve outcomes for stem cell transplant patients.
Being there for patients, now and always
What we've done this year
We set up a specialist telephone emotional support service after surveys showed that patients were struggling with their mental health and wellbeing during the pandemic. We also launched our Stop Patients Being Left Behind campaign to raise awareness of the emerging issues being faced by transplant patients.
We expanded our Patients Grants Programme to support patients struggling financially through the pandemic, especially those shielding or unable to work. We've awarded £66,435 over 266 grants.
When the immune response to the Covid-19 vaccine was found to be worse for blood cancer patients than most other cancers, we continued to seek and fund additional research into vaccine efficacy.
Our eight Clinical Nurse Specialists (CNS) and three Clinical Psychologists have continued to help patients during their transplant journey, providing consistent, holistic support and information to ensure patients and families get the right support at the right time.
We launched a new programme of Anthony Nolan adopted NHS posts to complement our existing CNS funded posts. This has enabled us to better understand patient need and empower more healthcare professionals to provide necessary care and support to stem cell transplant patients.
We used lessons learned from the pandemic to ensure patients get the care and support they need post-transplant. We joined with other medical research charities to highlight the importance of our work and ask the government for investment in the face of huge funding cuts due to the pandemic.
The impact a nurse has on recovery can be life changing...
'I am always reassured that you are there to support me no matter what' – A patient thanking one of Anthony Nolan's nurses.
On the horizon
Our enduring vision
As an organisation, we have learnt a huge amount about ourselves over the last year – such as our ways of working, our relationships with supporters and the lifesaving value we provide to our patients. Having shown great resilience throughout the pandemic, we're ready to carry these learnings forward to maximise our impact.
As always, our vision will guide and underpin everything we do as we work to save and improve the lives of everyone who needs a stem cell transplant, providing them with the best possible treatment and care.
Our key priorities for next year
Continuing to expand and enrich our stem cell register, increasing the information we gather from new donors by collecting their CMV status which is increasingly important in finding the best possible match for patients.
We'll be driving forward our research to understand the range of factors that influence the success of a transplant for patients.
Continuing to provide patients, families and carers with the support and information they need through our patient services while amplifying their voices to influence changes to policy and practice.
We don't know what's around the corner, but one thing we do know is this – we will not stop. We will keep working, and will deliver.  
Without you, there really is no cure
Everything in this report is only possible thanks to our incredible supporters – from the committed fundraisers and corporate partners, to dedicated researchers and unstoppable volunteers. Together, we will make sure that more people with blood cancer and blood disorders will not only survive, but thrive.
An extra special thank you to the organisations and individuals listed here:
+
-
Providing outstanding financial support or partnering with us to recruit more lifesaving donors. Thank you!
Adrian Sudbury Schools Education Trust  
African Caribbean Leukaemia Trust 
The Friends Groups of Anthony Nolan  
Amgen, Ltd. 
BGC Partners  
Brit Insurance 
Cooper Parry 
Covent Garden Tenants' Association 
David and Ruth Lewis Family Charitable Trust 
Ellissa Baskind 
Miss Elly and Mr Mark Scanlon 
Family and friends of Alice Byron  
Family and friends of Chris Vesty 
Family and friends of Colin McArdle 
Family and friends of Maisie Ryan 
Family and friends of Veer Gudhka 
The Garfield Weston Foundation 
Gilead Science 
Isaac's Gift 
The Jack Petchey Foundation  
Jazz Pharmaceuticals 
Jamie Wolff 
Jemima's Lifeline 
Love for Libby – Libby Cotts and family 
Marrow 
Mason's Mission 
Members of the National BAME Transplant Alliance 
Naomi Ayers 
P F Charitable Trust  
Pfizer Ltd. 
Police Scotland 
Race Against Blood Cancer 
RSM UK Foundation 
Budapest Airport-anna.aero Runway Run.  
Rian Harvey 
Rik Basra Leukaemia Campaign  
Ross Mcewen 
Scottish Fire and Rescue Service  
Shree Kadwa Patidar Samaj (UK)  
The Steel Charitable Trust 
M&S Food  
Mr Stephen Allen  
Mr Stephen Berger  
Mrs Susan Amber Gordon 
The Sue Harris Trust 
Takeda UK Ltd. 
Tile Giant 
Tracy Sollis Leukaemia Trust  
The Wolfson Foundation 
Yates Family Charitable Trust