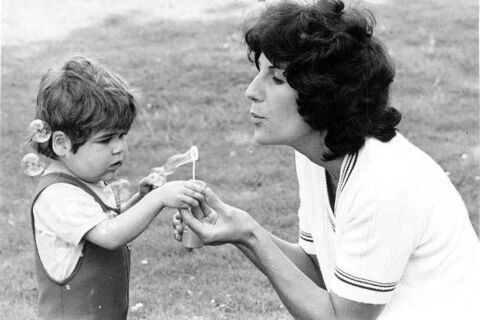 How one little boy's legacy led to a million lifesaving transplants.
1971
Anthony Nolan was born with a rare condition called Wiskott-Aldrich syndrome. The only cure was a bone marrow transplant. But none of his family were a match, and a transplant using bone marrow from an unrelated donor had never succeeded. There was no system to find matching unrelated donors, either.

1973
A little boy called Simon Bostic had the first successful unrelated donor transplant. This gave Anthony's mother, Shirley, an idea: to start a bone marrow register to connect unrelated donors with people like her son, who desperately needed a transplant.

1974
The Anthony Nolan Bone Marrow Register was established in Westminster Children's Hospital, where Anthony was a patient. Shirley campaigned and fundraised tirelessly to make this happen.

1978
We moved to our first official laboratory in St Mary Abbots Hospital, run by Dr James.

1979
The register grew throughout the seventies. Sadly, it couldn't help Anthony Nolan, who died aged seven.
1986
14 people on our register had donated bone marrow to patients in need. That year, working with the Round Table organisation, we also did a major recruitment push and signed up 100,000 new potential donors in just six weeks.
 
1987
We appointed Simon Dyson as our Chairman, and we also appointed leading bone marrow transplant specialist Dr John Goldman as our Medical Director.

1988
We became a founding member of Bone Marrow Donors Worldwide. Through this organisation, we can search 50 international registers for donors.
1990
Our new laboratory opened to house our 20 staff, and Brigadier Tony Morland was appointed Chief Executive, remaining in post until 2003.

1991
The Duchess of Kent became our patron. The same year, we started to build our research institute, to research the best ways to do transplants, so we could save more lives. Research and Scientific Director, Professor Alejandro Madrigal took charge, and it opened in 1996.

1994
We provided our 1,000th person with a transplant. And by 1995, our register had grown to 275,000.

1996
Beverley De-Gale and Orin Lewis, who needed to find a black or mixed race bone marrow donor for their son Daniel, set up the Afro-Caribbean Leukaemia Trust. This organisation encourages people from black and minority ethnic communities to join the Anthony Nolan register.
 
1998
We provided donors for 300 transplants for the first time in a single year.
2000
We provided our 2,500th person with a lifesaving transplant. Our income was more than £10 million for the first time too, and Shirley Nolan was awarded an OBE. We also found 100 bone marrow matches overseas for people in the UK.

We started gathering stem cells for transplants using peripheral blood stem cell (PBSC) collection – a quicker, easier and less painful method than collecting bone marrow. .

2001
To mark our shift from bone marrow to PBSC donation, we changed our name from The Anthony Nolan Bone Marrow Trust to The Anthony Nolan Trust.

2002
Sadly, in the midst of all this growth, Shirley Nolan passed away in Australia. Her legacy continued as that same year the register grew to 320,000.

2003
Our Chairman Simon Dyson was awarded an MBE. Professor Alejandro Madrigal, our Research and Scientific Director, also stepped up to lead AlloStem, a major EU-funded cancer research project, involving 29 partners from 13 countries.

2004
We celebrated our 30th anniversary. The same year, we provided our 4,000th person with a transplant.

2006
Our register grew to 380,000 potential donors. The same year, we were Charity of the Year for the Flora London Marathon and easyJet's Charity of the Year too.

2008
We set up the UK's first dedicated cord blood bank. This allows mothers to safely donate the blood from their umbilical cord and placenta after they give birth. This is rich in stem cells, which we use for lifesaving transplants.
Our Deputy Director of Research Dr Steven Marsh was appointed President of the European Federation for Immunogenetics, strengthening our scientific profile.
Sadly, the same year, our Chief Executive Dr Steve McEwan passed away. His legacy of hard work and dedication lived on, and in 2009 we provided a record 750 lifesaving stem cell transplants. Former Chief Executive Brigadier Tony Morland returned to lead the charity through to 2009.

2009
Henny Braund joined Anthony Nolan as our new Chief Executive.
When Area Commander for Strathclyde Fire and Rescue Service, Ally Boyle, was diagnosed with myelodysplasia (a type of blood cancer,) he and his team set up a partnership with Anthony Nolan. Knowing that both of our aims was to save lives, he realised that working together could have a hugely positive impact.
2010
We made joining our register much easier by asking potential donors to give saliva samples instead of blood. This meant we didn't need to have healthcare professionals at recruitment events, and could send out 'spit kits' in the post – saving time and money.
We completely re-branded and changed our name to Anthony Nolan. We also secured our largest corporate partnership ever with Wilkinson, valued at £1m.
With the appointment in 2010 of Research and Scientific Director Professor Alejandro Madrigal as President of the European Group for Blood and Marrow Transplantation, we maintained our strong scientific presence.

2012
The world's millionth stem cell transplant took place – something that was unimaginable when Shirley started her campaign. The Charity Times also voted us their 'Charity of the Year'
The same year, we became the first register in the world to start recruiting 16-year-olds. For the first time ever we made 1,000 transplants happen in just one year. And we also became the Virgin Money London Marathon Charity of the Year for 2014.
2014
The funded Clinical Nurse Specialist programme began in September. A CNS is someone who has gained experience in an area of nursing practice in which they are considered to be a clinical expert – in this case, stem cell transplant. They deliver specialised care to patients, providing information, guidance and support. Today we have funded 12 Clinical Nurse Specialists across the country.
2015
Our annual fundraising event, the Daisy Ball, celebrated its 20th anniversary.

2016
Sadly, our former Chief Executive Brigadier Tony Morland passed away. He led the charity for almost fifteen years, during which time he oversaw a number of projects which established Anthony Nolan in the scientific and research world.
2017
A record breaking 20,000 people joined the register in one week after hearing the story of Ava Stark, a three year old girl who needed a lifesaving transplant. Thankfully a donor was found for Ava, who she and her mum Marie have since been in direct contact with. They hope that Ava's story will encourage many others to join the register.
After NHS England announced they would no longer routinely fund second stem cell transplants for patients that had relapsed, our Policy and Public Affairs (PPA) team launched a campaign to Defend Second Transplants. Joined by over 25,000 supporters, we successfully overturned the unjust decision and in March it was announced that second transplants would once again be funded. This could save an additional 20 lives a year.
In September, we moved from spit kits to using cheek swabs to collect potential donors' genetic information. Swabs are more cost effective, easier to send out and more straightforward to use, meaning we are ready to recruit a higher number of donors at a wider range of events in the future.
Working in partnership with Leuka and NHS Blood and Transplant, we launched the IMPACT initiative in November. This partnership aims to improve the outcomes of stem cell transplant recipients through the delivery of clinical trials across the UK.
2018
In September, Marrow, our fantastic network of student groups all over the UK, celebrated its 20th anniversary. They were originally founded Dr James Kustow (a student at Nottingham University at the time) who has since gone to on become one of our trustees. In those 20 years since its creation, there are now over 50 Marrow groups in the UK, who have recruited over 150,000 potential donors to the register - 1,350 of them have gone on to donate. These outstanding figures are a constant reminder how vital our Marrow groups are to our cause.
Oscar-winning actor Olivia Colman CBE became our patron. After losing a close friend to leukaemia, Olivia was inspired to support our charity and the work that we do. You can watch her story here.
2019
This year we launched our brand new 2019-2022 Organisational Strategy, 'Together We Can Save Lives'. Our mission to save lives, support patients and engage supporters is stronger than ever, and our goal to work together as 'one Anthony Nolan' should help to achieve this.
Our patient support programme was expanded in January, adding three Clinical Psychologists posititons to aid in specific psychological issues of post-transplant care.
Our annual event, the Daisy Ball, celebrated its 25th anniversary - a very special event marking quarter of a century of incredible fundraising.
We celebrated the 10 year anniversary of our partnership with the Scottish Fire and Rescue Service (SFRS) who have recruited over 14,500 new potential donors to the register, 53 of who have already gone on to donate. There are now 26 volunteer groups across Scotland who partake in events in offices, schools and fire stations.
The Anthony Nolan register reached 750,000 potential donors in June. Our 750,000th donor, Abin, was recruited through our partnership with Scottish Fire and Rescue Service.