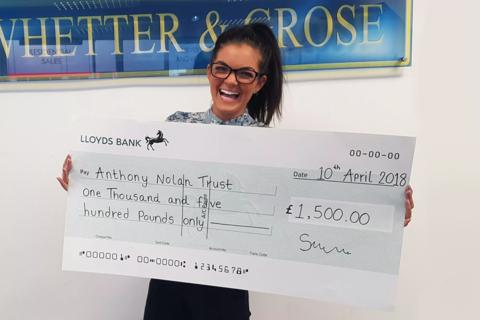 We can't thank you enough for all your hard work to raise lifesaving funds. Once you've finished your fundraising and counted all your cash, there are many ways you can pay the money to Anthony Nolan.
Ways to pay
Online
You can pay in the money you've raised safely and securely using our online form.
By post
Please make cheques and Charity Aid Foundation (CAF) vouchers payable to 'Anthony Nolan' and post them to the below address along with your name, contact details and how you raised the funds so we know where they came from, and who to say a big 'thank you' to.
Our address:
Supporter-Led Fundraising Team
Anthony Nolan
Unit 2 Heathgate Place
75-87 Agincourt Road
London
NW3 2NU
Cash
Please do not send cash in the post. If people have given you cash donations, you can:
Make a card payment over the phone for the equivalent amount. Please call 0303 303 3002 to make a payment.
Send a cheque for the equivalent amount
Add the equivalent amount to your online fundraising page
Email events@anthonynolan.org to request a paying-in slip, then take the money to the bank and pay it into our account
Card payments
You can pay in your sponsorship money by credit or debit card by calling us on 0303 303 3002. We accept all major cards, with the exception of American Express. 
Employer matched giving
If you haven't already asked your employer to sponsor you, now's a great time! You could even ask them to match what you raise as some companies have matched giving schemes, and might even match what you've raised pound for pound. If you've asked your company about this and they've agreed to sponsor you, please let us know. Simply call us on 0303 303 3002 or email events@anthonynolan.org and tell us:
The name of your company
How much they're donating
How they'll be paying – by BACS or cheque, for example
When they'll be paying
Without this information we won't know that their donation should go towards your fundraising total. If you have any questions at all about paying your sponsorship in, or about your fundraising, give the team a call on 0303 303 3002 or drop us a line at events@anthonynolan.org
Show the world!
We love nothing more than seeing what you've done to raise money and it can help inspire other people too! Share your fundraising on social media, and don't forget to tag us in it too!