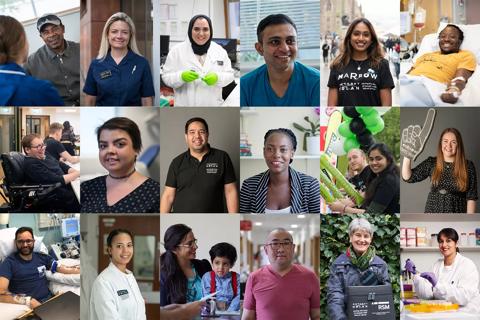 Our vision is for a future where every patient who needs us can survive and thrive.
We strive to save and improve the lives of everyone who needs a stem cell transplant, no matter what their background, ethnicity or circumstance.
To help achieve this, we are committed to working in collaboration, both internally and externally, to make meaningful, sustainable change through greater inclusion and diversity. We know that by working together with a diversity of perspectives and experiences, we can achieve more for our patients, employees and the sector as a whole.
The work we do at Anthony Nolan is fundamentally about people. The events of 2020 have made us take even more stock of our relationship with patients, colleagues, donors, supporters and volunteers and how they feel about us. Where the coronavirus pandemic has starkly highlighted the health inequalities that exist within society, the increased public focus on anti-racism has highlighted the racial injustices people from minority ethnic backgrounds experience on a daily basis. In our role as both a health charity and an employer, we know there is more that we need to do to address these issues through our work.
What unites our community is our shared determination to save and improve the lives of people with blood cancer and blood disorders. We want to be there for everyone and provide them with access to the treatment they need. No matter who you are, or where you're from, if you need us, we will be there for you. This unifying principle permeates every part of Anthony Nolan, and drives us to achieve more.
With our staff and volunteers, our ambition is to create an inclusive environment for those from all backgrounds, where different perspectives are valued and celebrated, and everyone can bring their whole self to Anthony Nolan. We want to ensure our community is treated with respect, fairness, and represents the people it supports; it's an ambitious goal and one we are determined to make significant progress towards.
We have currently established five principles that will govern the work we do, but recognise that these will evolve as we learn more in this critical area:
Understanding the unmet need of our patients and working towards equity of access for treatment. We know that one of the biggest disparities in equity of access is ethnicity, therefore this will be our immediate focus, building on the work we have already undertaken as we continue to drive research and understanding about what finding the best possible donors.
Making a strong and visible commitment to inclusion and diversity, supported by effective leadership at all levels of the organisation, a clear action plan, and fit-for-purpose governance structures. This will include a steering group to develop and oversee our action plan to ensure alignment of work, as well as recruiting inclusion champions to help harness the ideas of employees across the organisation. Together, these will help us ensure we have a strong framework in place to deliver our ambition and measure progress along the journey. It will enable us to be transparent about our commitment to creating a diverse and inclusive organisation, and be held to account for doing so.
Collecting and improving the data we hold in relation to diversity and inclusion, for our employees, board and volunteers. We will use this data to establish a baseline of our current position and to identify and action areas for improvement.
Developing an inclusive working culture where everyone can be themselves at work. This includes understanding and adjusting our approach to: recruitment, retention, progression, pay and reward, and learning and development.
Raising the profile, benefits and awareness of diversity and inclusion through communication, education, training and monitoring our progress and performance.
These principles will guide our work as we look to deliver long term, measurable and achievable change. We know we can't do this alone, and invite our patients, donors, employees, supporters, partners and volunteers to be part of this shift to greater inclusion and diversity.
Together, We Can.