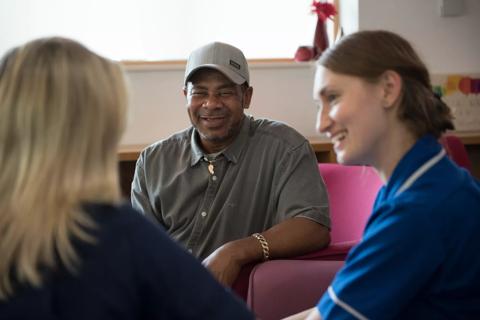 Need to talk?
Call our helpline on 0303 303 0303 for stem cell transplant information and advice.
We can also offer you free Telephone Emotional Support.
We're here to help before, during and after your stem cell or bone marrow transplant
Our award-winning Patient Services team can offer information, advice, and emotional and practical support for you and your family, with help from our specialist nurse and wellbeing professionals.
Our helpline is open 9am to 5pm, Monday to Friday (excluding bank holidays).
If you need medical support when our helpline is closed, please contact your transplant team, your GP or 111 (999 in an emergency).
If you need emotional support, you can contact the Samaritans (116 123 or jo@samaritans.org) for free at any time, 24 hours a day.
We provide support on our helpline in English. If you need to speak to someone in a different language, please let us know. We have access to LanguageLine so can provide an interpreter for you.
To view any page on our website in another language, click Select Language in the top left hand corner.
You can also see our Other useful contacts page to find further support including Blood Cancer UK, Macmillan Cancer Support and Leukaemia Care.
How can we support you?
I need advice about going back to work
Working To Wellbeing offers advice to people going back to work after transplant – email us to find out more: patientinfo@anthonynolan.org
How have others dealt with this?
Patients and families explain how they managed stem cell transplant in our blogs, podcasts and videos
Our full range of patient services
Information published: 30/05/22
Next review due: 30/05/23