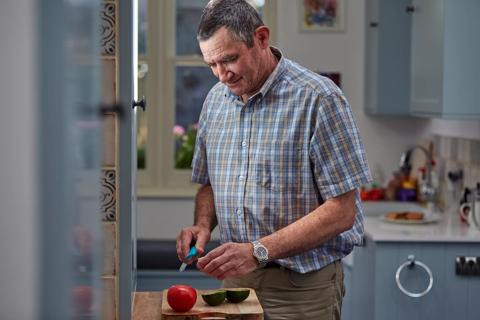 Almost all stem cell transplant patients will experience side effects that make eating and drinking more difficult. It's a perfectly normal part of recovery, but it's important to be aware of the challenges you could face and how to cope with them.
Your needs are likely to change over time. In the beginning, your focus will be on maintaining your current weight and finding the foods that you can eat easily. During this time, your body needs more energy and nutrients to help repair and create new cells.
As your recovery progresses, you can start to make your diet healthier, which will help in the long term.
We have suggested some basic tips that you will hopefully find useful. They won't all be relevant to everyone all the time, so pick and choose the advice that you think is best for you. If you would like some more specific advice, you should talk to your clinical nurse specialist or a dietician at your hospital.
This section looks at the following:
Our Essential Guide to Diet and Physical Activity (PDF 3025KB) also has information and advice on how to eat healthily after a stem cell transplant.
Food safety advice
After your stem cell transplant, it will take time for your new immune system to develop properly. This period is described as 'neutropenic' because your white blood cell counts will be very low. You will be at risk of picking up infections from many sources, including your food, but lots can be done to help prevent it.
Your medical team will guide you on the types of foods that should be avoided when you come home. It will generally follow a diet that reduces the chance of picking up an infection from foods such as blue cheese or undercooked meat.
It's impossible to remove all bacteria from food but being careful with the way you clean, store, prepare and cook your food will reduce the risk of infection. The following tips are a good start to improving and maintaining food hygiene:
Always wash your hands and kitchenware. Wipe down surfaces with disinfectant or sanitiser before and after preparing food and change your dishcloths regularly. This is extra important when handling raw meat or fish.
Buy food in individual-sized portions or smaller containers. This means they will be open for less time before they are used up. It's also better to avoid leftovers or re-heated food too.
Stick to 'best before' and 'used by' food labels – never eat anything that is out of date.
Only eat in restaurants or get takeaways from places you're familiar with and that you know have good hygiene standards. You can check the latest food hygiene rating of any restaurant or takeaway outlet on the Food Standards Agency website.
Wash all fruit and vegetables before eating them.
Make sure food is cooked and heated properly. Rare meat is best avoided.
More information and advice on food safety is available in Blood Cancer UK's Eating well with neutropenia guide.
Diet tips
In general, advice about the food you eat will change at different points during your recovery and will depend on the side effects that you experience. Some of these tips might seem to go against healthy eating, but you can focus on this when your weight and energy levels are approaching where they were pre-transplant.
If you:
have a sore mouth: try ice cubes, lollies and ice cream to soothe the pain – soups and other soft foods are easier to swallow too
feel sick: eat dry, simple foods, and avoid greasy, fatty foods
have constipation: eat high-fibre foods and drink plenty of hot drinks
have diarrhoea: eat plain food and replace lost fluids
need an energy boost: try high protein foods like eggs and cheese – snacks such as dried fruit and nuts have lots of energy too.
Eating habits
Your relationship with your food can be just as important as what you are eating, especially if difficulties with your diet have started to make you feel anxious or stressed. It's perfectly normal to find it hard at times but changing the way you eat could make a huge difference to how you feel and improve your recovery.
Little and often – Nobody says you must eat three meals a day, and it can often be challenging to eat a full meal all at once. Try eating smaller portions more often, so that things are more manageable.
Cravings – Eat what you want. If you feel like you can only eat certain things, just go for it! It's better to choose something you know you can eat, rather than struggle with something because you think you should.
High calories ­– Choose food with more calories to give you more energy without having to eat lots. Try having full-fat milk, cream stirred into soup or cheese on a baked potato.
Quick options – Plan meals that can be prepared quickly and easily, so if you can't manage to eat them it doesn't seem like a waste of time and effort. But try to not plan too far ahead – when your appetite is poor, it's easier to take things day by day.
Avoid distraction – Eat at the table rather than in front of the TV. Concentrating on your food will help you enjoy it more and feel fuller.
Aid digestion – Stick to foods that can be eaten with little chewing, or use a sauce or gravy to make food easier to swallow. Sit upright for 10-15 minutes to help your food settle and avoid indigestion.
Maintaining a healthy lifestyle
As your recovery progresses further, it's still important to lead a healthy life, which includes a well-balanced diet. This will help keep you mentally and physically fitter and reduce the chance of certain health problems developing.
Many patients ask about things they can do to help prevent their illness returning, or secondary cancers developing in later life. A quick online search will give you many suggestions about how this can be done. Some of them will be based on scientific evidence, but worryingly many are not and should be avoided.
The World Cancer Research Fund promotes eight key recommendations that all cancer patients should follow to help reduce the risk of complications in later life. Following these points will not guarantee that everything will be OK, but they will hopefully make you feel fitter and healthier. The organisation regularly updates these recommendations as new research becomes available.
It currently recommends to:
maintain a healthy weight and ideally have a body mass index (BMI) of 18.5-25
be physically active
follow a plant-based diet, including lots of wholegrains, fruit and vegetables
limit red and processed meat
limit fast food and processed foods, including those high in fats, sugars and salt
limit sugary or sweetened drinks
limit alcohol consumption – no more than 14 units of alcohol in an average week (but your medical team may advise you to not drink alcohol at all due to your medication)
avoid supplements – it's better to get the vitamins and minerals you need naturally from your diet, and supplements should only be taken when recommended by your doctor.
You can find more information about these recommendations on the World Cancer Research Fund website.
Information published: 23/12/21
Next review due: 23/12/24
Related links