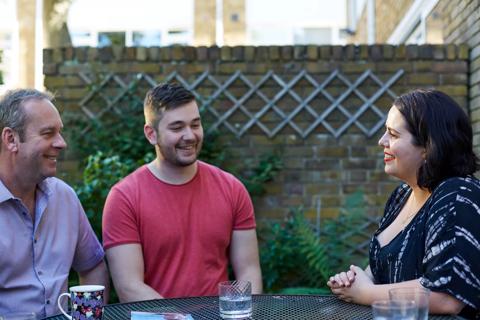 There could be times in your recovery when you feel down, anxious or overwhelmed and find it hard to cope with the impact it's having on you.
Many people turn to family and friends for advice when things get tough, but you might also benefit from trying a talking therapy. Your therapist will give you time and space to be heard and help you think about your situation differently. It might not make your problems go away but it should make it easier to deal with them.
You don't have to wait until you feel overwhelmed before seeking help. Talking therapies can help anybody at any time. Being able to recognise your feelings and process them in a controlled way might even help you avert a crisis before it begins.
Talking to a therapist should form part of your bigger strategy for looking after your mental health. Living a healthy lifestyle that includes regular exercise, plenty of sleep and relaxation techniques will give you the best chance of feeling both mentally and physically stronger.
This section will address the following questions:
More information on talking therapies is also available from the mental health charity Mind.
What are talking therapies?
When we experience difficult times in our lives it can be easier to talk to someone we don't know, rather than our friends and family. When we talk to a trained professional about our feelings and how we react to them it's called a 'talking therapy'. You might hear this type of support referred to as 'counselling' or 'psychotherapy'. They roughly mean the same thing: when we talk through our tricky thoughts or problems with someone. However, they can also be used to describe certain types of talking therapies.
Here we stick to the general terms talking therapies and therapists.
Each session with your therapist will be a one-to-one conversation lasting about an hour. They will ask you how you're feeling and what is making you feel that way. They will discuss how you react to these feelings and, together, you'll talk about ways you can try to change your behaviour and thoughts so that you feel more in control of your emotions and life surrounding them.
How can I get the help I need?
If you would like to try a talking therapy, your medical team or GP can refer you. In England, it's also possible to access free treatment through the Improving Access to Psychological Therapies (IAPT) programme. This NHS service allows people with stress and anxiety problems to refer themselves directly to services in their local area.
Through the NHS you are likely to be offered a course of roughly 6-15 one-hour sessions, but this could vary greatly depending on your situation and how quickly progress is made. There could be a long waiting list on the NHS or you might decide that you want to see someone for longer. If this happens, and your financial situation allows, you may want to consider paying for private therapy. You can find a registered therapist through the BACP (British Association of Counselling and Psychotherapy) website.
If you would like to see a therapist privately but you are worried about the cost, therapists or organisations may offer the following:
A free taster session so you can be more confident that it's the right option for you.
Reduced rates for people on low incomes.
Reduced rates for students.
Your work may offer counselling sessions as an employee benefit or be willing to contribute as part of your return to work. Your HR department will be able to discuss your options with you.
You can apply to charities and other organisations for funding, including our Anthony Nolan grants. Our page on Help with your finances has more details.
Anthony Nolan offers a free Telephone Emotional Support service specifically for stem cell transplant patients and family members. This is provided by Working to Wellbeing who are a team of wellbeing specialists including qualified psychologists, with years of experience providing support for stem cell transplant patients. If you think this might be helpful to you, email our team to arrange an appointment: patientinfo@anthonynolan.org
Other charities like Macmillan and Maggie's also offer talking therapy sessions and other support.
What are the different types of therapy?
Many talking therapies have been developed to help people in different situations that could be either stressful or upsetting.
There's no right or wrong answer for which will be best for you because everybody and their personal situation is unique. Your therapist may decide to use different aspects of these therapies at the same time – if they feel that it would help.
You might not even be aware which techniques are being used because your therapist will change their approach to best suit your needs.
Cognitive behavioural therapy (CBT)
On the simplest level, CBT has two main focuses – what you think about (cognitive) and how you react (behaviour).
When we have negative thoughts, we tend to react in a certain way, which can in turn make us feel worse. CBT is about learning to identify and challenge unhelpful or inaccurate thoughts and beliefs and so can be very helpful for many stem cell transplant recipients during recovery.
CBT helps you recognise when you're having negative thoughts and develop coping strategies, so you can act in a more balanced way. At first these new strategies may feel unnatural, and it can take effort and commitment to start using them more regularly. Your therapist will work with you on this and set you goals to work on between sessions.
These tasks can be added to the My Transplant Tracker app so that you can monitor your progress from week to week.
More information on CBT is available from the NHS website.
Counselling
In a counselling session, your therapist will listen to your concerns and how you are feeling without judgement. They won't tell what you should do to make things better, but they will work with you so that you can find your own solutions to your problems.
Counselling can help you cope with a variety of situations including depression, anxiety or difficult medical complications that you might be experiencing, such as fertility or body image.
Counselling doesn't have to be done face-to-face. It can be done over the phone or online if you prefer.
Group therapy
Sometimes simply being around other people going through something similar is reassuring. It helps you to realise that how you are feeling is very common and can put your experiences in context of other people's. You might also pick up some tips about coping with your condition that you hadn't thought of before.
Local support groups are often set up by the hospital or through charities and organisations.
Finding the right person to talk to
Just as your own personal situation is unique, so is the relationship with your therapist. You will find you get on better and have more in common with some therapists than you do with others. Talking therapies are of most benefit when there's a connection between you and your therapist and you are comfortable enough to trust and confide in them.
Research has shown that patients benefit the most when their relationship with their therapist is stronger. This means it's really important that you have the confidence to speak up when you think it isn't working out. There's nothing wrong with asking to see someone new if it would help you more. Your therapist may even suggest it themselves if they think someone else would be better suited to you.
What if therapy isn't for me?
Although talking therapies help a lot of stem cell transplant recipients during their recovery, they aren't for everyone. Some people try them and find no real benefit. There's nothing wrong with this and it certainly isn't your fault. It could have simply been that the timing wasn't right or that another approach would suit you better.
There are alternatives to talking therapies that you might want to consider, including:
Medication – Sometimes, certain medications can help with the symptoms of mental health problems, particularly depression and/or anxiety. Medication usually doesn't 'cure' a mental health problem but can help you feel you are managing things better.

Often, they can work well in combination with talking therapy. Sometimes medications will have side effects, so make sure you get all the information you need first and talk through your options with your medical team and close family before deciding.
Self-help – If you like the idea of talking therapy but would prefer to not talk to a therapist for any reason, it's possible to give it a go on your own. A variety of self-help books and online information will guide you through the process at a pace you are most comfortable with.
If you need some inspiration on what to try, you could ask the members of our Patients and Families Forum for their recommendations.
More information on alternatives to therapy is available on Mind's website.
Information published: 29/11/21
Next review due: 29/11/24
Related links
Support for parents, family and friends
Charities that support you & your mental health