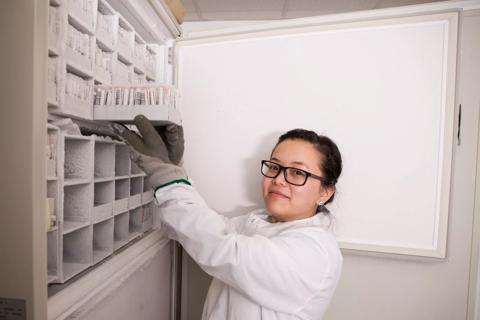 As a charity we recognise the importance of funding research that will improve every aspect of the transplant journey for all our patients. Every year we carefully invest a proportion of our income into this research.
Review process
To ensure this commitment to research will have the highest possible impact, Anthony Nolan has established a scientific and clinical advisory board. This panel of world-renowned experts in the fields of stem cell transplantation, immunotherapy, immunogenetics and clinical trials reviews progress of all Anthony Nolan research projects on an annual basis. The board also reviews proposals for new projects proposed by our scientists and clinicians.
Read our current research strategy.
Independent Research Organisation status
In November 2020 Anthony Nolan was awarded Independent Research Organisation status by UK Research and innovation. As a result, we can now apply directly to the UK Research Councils for funding. This will enable us to increase our research capability, both in terms of our scientific workforce and the resources we can provide for them.
It's the next step in our ambition to strengthen our collaboration with other academics and embed research excellence at the heart of all our activities. This means our research will have a greater impact and accelerate the rate at which new treatments are developed for our patients.
Underpinning the research is our commitment to the highest standards as part of this we have set policies to govern our research.