Uni can be the best time of your life, and the best time for lifesaving. Young people are the best possible stem cell donors, and we know you're incredible fundraisers too.
Raise and Give
If you're part of your uni's Raise and Give (RAG) society, you can nominate Anthony Nolan as one of your RAG's charity partners to make an even bigger lifesaving impact.
How can your RAG be involved?
Charity of the Year: RAGs can choose to support Anthony Nolan as one of their chosen charities for a year, or even for a term or a week! We have lots of fundraising materials and tips to help you hit your targets and raise more than ever before.
Charity Collections: RAGs also sign up to take part in one of our uni charity collections. And if you want to take the lead and organise your own, we can help with applying for a permit, as well as set you up with buckets to shake and t-shirts to show off proudly!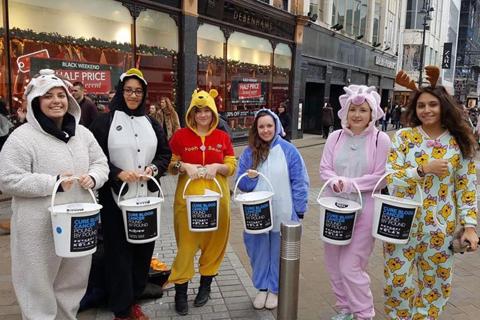 How we'll support your RAG
We're here to support you and your RAG every step of the way to help you reach your targets while developing new skills. You'll have a dedicated member of our team to support you, as well as all of this:
Personalised Anthony Nolan running vests – you'll look stunning in black and green!
Access to all our fundraising materials and stash
A lab tour at the Anthony Nolan Research Institute, led by our pioneering scientists
Exclusive volunteering opportunities across the charity
Entry to our RAG leader board (with a prize at the end of the year for the RAG who raises the most)
References to help your CV shine
So don't hesitate to get in touch for more information about charity collections or Charity of the Year nominations! We can chat about how we work with RAGs and how you can support us as one of your chosen charities.
Society fundraising
If you're proudly part of a society, or a key member of a club, you can get your group on board to fundraise for Anthony Nolan – it can be for the whole year, or at a one-off event.
From bake sales and bucket shakes, to cocktail evenings and ceilidhs, we'll be able to help with advice, tips and decorations to make any event you hold a success.
Get in touch to tell us all about your society, and chat about your ideas and how you can get involved.
Marrow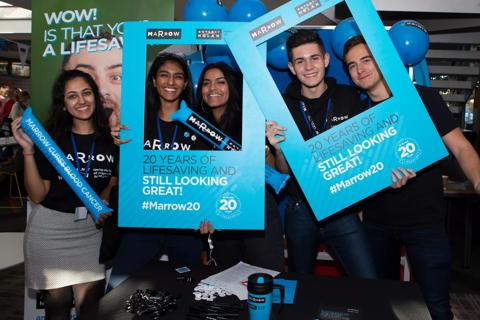 Marrow is our network of student groups in over 50 universities across the country, with hundreds of volunteers all working towards the same goal - to help save the lives of people with blood cancer.
Marrow have three aims:
To raise funds to help support Anthony Nolan's vital work
To give every student the opportunity to join our stem cell register
To raise awareness of Anthony Nolan and blood cancer within universities around the UK
Find out more about Marrow, and if there's already a group at your university.