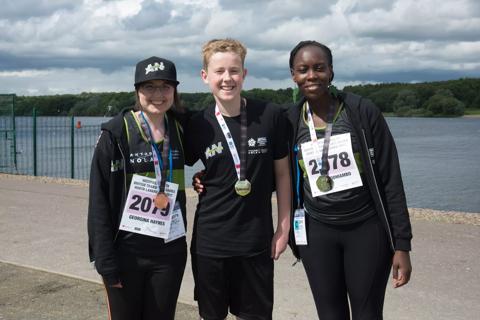 After a stem cell transplant, keeping active can help you both physically and emotionally. Making exercise a part of your daily routine is a great way to combat fatigue and rebuild your strength and balance. It can also help reduce the risk of heart disease and osteoporosis (when your bones become weak and fragile).
In this section, we will look at the different types of exercise you can do at all stages of your recovery – starting with your first few days in hospital. It will focus on the following topics:
Our Essential Guide to Diet and Physical Activity (PDF 3025KB) also has information and advice on how to exercise safely after a stem cell transplant.
How and when should I start exercising?
If your medical team agrees, you should be able to try a few very simple exercises in your hospital bed. If your hospital has a physiotherapist, they can give you some suitable exercises and stretches. As your recovery continues, your physio will work with you to increase your physical activity and progress your exercise programme.
Focus on maintaining functional movement to begin with, like walking and moving regularly, building up gradually. You will probably find it more manageable to break down activities into small chunks with some rest in-between.
Keeping active
Physical activity can include exercises as part of a home or gym programme, playing organised sport or simply doing tasks around the house or garden. You don't have to join a gym or an exercise class if you don't want to. It's best to build physical activity into your everyday routine. It's often easier to stick to something you enjoy, that doesn't need much effort or planning.
As recovery progresses, a structured exercise programme should cover four key areas – aerobic, resistance, balance and flexibility:
Aerobic – Anything that increases your heart and breathing rate. You could try walking, jogging, cycling, dancing or a team sport.
Resistance – Carrying the shopping and doing housework will make your muscles stronger. You could also lift weights in the gym, but make sure you start gently and build up slowly.
Balance – Activities such as yoga or tai chi will strengthen the muscles that help you balance. Even simple activities like standing on one leg can help too.
Flexibility – Regularly stretching muscles and moving joints will make you more supple and reduce any aches and pains. Yoga, tai chi and Pilates will improve your general flexibility.
Making progress
Once you've got yourself into a routine, try to stick to it and build on your progress slowly over time. If things start to feel a little repetitive, you can always mix things up a bit or introduce a new activity.
Although it's good to have a long term goal that you can strive to achieve, aiming to do something like a long distance run or swim might seem impossible now. If you start by walking to the end of your street, then into town or to another nearby area, or simply walk for longer, you might be surprised by how you much can push yourself each time.
The NHS recommends that adults should aim to:
do at least 150 minutes of moderate physical activity or 75 minutes of vigorous physical activity each week
do strengthening activities twice a week that work most of the body
reduce extended periods of sitting.
As a guide, moderate level activity includes things like brisk walking or cycling where you can still talk, but you can't sing the words to a song. Vigorous exercise makes you breathe hard and fast. If you're working at this level, you won't be able to say more than a few words without pausing for breath.
These guidelines may not be achievable at the start of your recovery, but that's understandable. They should be a long-term goal that you build up to gradually over time.
The Anthony Nolan My Transplant Tracker app can help you set exercise goals each week so you can track your progress over time.
Sarah's story
When it's not safe to exercise
In general, if you are recovering well, it's safe to do light or moderate exercise. There could be times, especially in your early recovery, when your blood counts are very low. It's probably best to not exercise during this time, but your physiotherapist, or another member of your medical team, will be able to give you specific advice.
Exercise should also be avoided if you start to feel unwell in any way. Possible signs of illness or an infection include:
having a temperature
nausea
vomiting or diarrhoea
a persistent headache
aches and pains
dizziness or feeling faint.
If you start to have any of these symptoms, you should discuss them with your medical team straight away.
Useful resources
Couch to 5K – An NHS programme designed to get people up and running over a period of nine weeks.
Get Active, Feel Good – Macmillan has produced a step-by-guide to becoming more active if you're living with, or after, cancer.
parkrun – Free, organised 5k runs held every Saturday at 9am throughout the country for people of all fitness levels and abilities.
Information published: 23/12/21
Next review due: 23/12/24
Related links