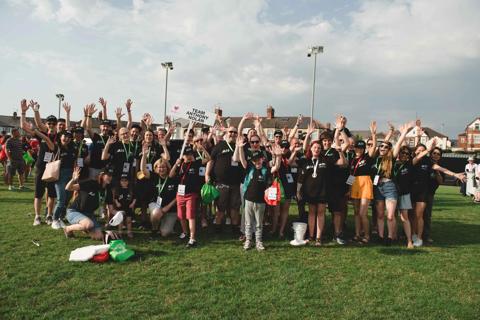 The British Transplant Games sees people of all ages and abilities come together to take part in a wide range of sporting events. They have one crucial thing in common – they have all had life-changing transplants.
This annual event celebrates transplants, donors and life. It encourages patients to regain fitness after their transplant and it persuades more people to join the NHS Organ Donation Register. It's also a chance to meet other patients, families and donors – and is incredibly fun.
In 2015 a group of nine stem cell recipients came together for the first time as Anthony Nolan's Team AN to compete at the British Transplant Games in Newcastle Gateshead. They had an unforgettable experience, taking part in 17 events and coming home with 15 medals.
Anthony Nolan has taken a team to the British Transplant Games every year since then. In 2019 our team of 17 won a total of 23 medals across a range of events in Newport, south Wales, including golf, 1500m, tennis, ball throw, cycling, walking, badminton and beanbag archery.
The 2022 British Transplant Games will take place in Leeds from 28th - 31st July. Registration for this event has now closed.
If you are interested in joining Team AN for a future British Transplant Games, please email: patientinfo@anthonynolan.org
The British Transplant Games website has further info and we answer some Frequently Asked Questions below.

British Transplant Games - FAQs
Transplant recipients of all ages can compete at the British Transplant Games, from the under 5s to the over 70s.
I'm still having some treatment. Am I able to compete?
Yes – as long as you can have some recent blood tests signed off by your transplant consultant, and they're happy for you to do the events you have selected.
What events can I take part in?
There are a variety of events for children and adults, which suit all abilities and different stages post-transplant.
Events include
For adults: Archery, Squash, 10 Pin Bowling, Darts, Tennis, Table Tennis, Golf, Cycling, Walking, Mini Marathon (3k or 5k), Badminton, Swimming and track & field events.
For children: Tennis, Cycling, Walking, Swimming and track & field events (25m, 50m, long jump, ball throw).
What costs does Anthony Nolan cover?
We aim to cover all British Transplant Games registration fees.
Yes! Stem cell donors are very welcome in Team AN. You can compete in the Donor Run (3K or 5K) plus a number of other sporting events including badminton, swimming, 100m, ball throw, long jump, football, netball and more.
If you have any further questions, please email us: patientinfo@anthonynolan.org
Nadia's story
Nadia had a stem cell transplant in 2002. In this film she tells us about everything she's achieved since then, including taking part in the British Transplant Games:
Information published: 23/05/22
Next review due: 23/05/23
Related links
Keeping active after your stem cell transplant