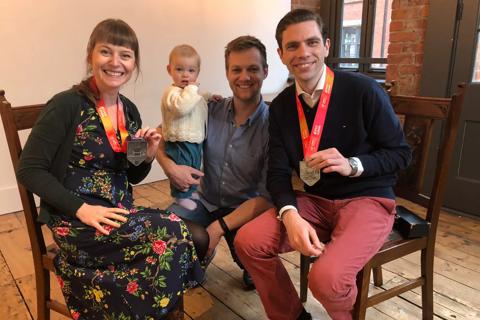 Stories and pictures from people with experience of blood cancer and blood disorders help to bring our work to life. They show what it's like to have a stem cell transplant and why it's so vital that people join the donor register.
We're looking for supporters who are comfortable speaking about their personal experiences and raising awareness about Anthony Nolan. You or someone in your family may have personal experience of a stem cell (or bone marrow) transplant, or be in need of a transplant in the future. Sharing your story can be a way to raise awareness of the register and help other people in a similar situation.
If you would like to share your story, we will advise you on raising awareness in your local community and contact you if we have any wider media opportunities available that you might like to help with.
Here are just a few examples of how people have helped in the past:
Giving a talk to staff, volunteers or supporters on your experiences
Providing a quote on a topical issue, campaign or event
Speaking with local or national media (appearing in newspapers, radio, TV and magazines)
Being filmed or photographed for a poster, advert, or our website.
Interested? You just need to fill out the following form with more details of your experiences and one of the press team will be in touch. Alternatively, give us a call on 0303 303 0303.
(Please note, if our press team have already been in contact with you, there's no need to fill out this form and give us your details again. Thanks!)
Information published: 17/01/22
Next review due: 17/01/25
Related links
Support for parents, families and friends