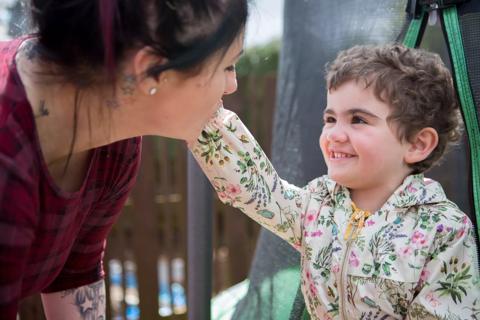 Before your stem cell transplant can happen, you will need to stay in hospital and have a course of treatment known as conditioning therapy.
This will last around a week and consist of chemotherapy and possibly radiotherapy too.
The chemotherapy could be given as a tablet, but will more likely be delivered as a liquid through your central venous catheter (CVC), also known as your central line.
If you have radiotherapy, it will be given at your hospital by a radiographer. This will remove any abnormal cells that are causing your condition, and prepare your bone marrow so it can receive your new stem cells.
There are two different types of conditioning therapy: full intensity (or myeloablative) and reduced intensity conditioning (RIC). Your consultant will consider many factors when deciding the best option for you, including your age, general health and the type of blood cancer or blood disorder you have.
Full intensity
This will be used if your consultant feels you are fit and well enough to cope with the side effects it can cause. As a result, it's used more with younger patients and will definitely be used if you have an autologous transplant. It's strong enough to remove all your existing blood stem cells. This is why your donor's stem cells need to be added to your blood as soon as treatment has finished, so that they can rebuild your immune system as soon as possible.
Cyclophosphamide and busulfan are two of the most commonly used chemotherapy drugs for full intensity conditioning. However, new treatments are constantly being developed so you may hear your medical team talking about other types of drugs too.
For a searchable A-Z of possible chemotherapy drugs and information on their use, see the Macmillan website.
Reduced intensity
This type of conditioning therapy is an alternative for patients who are not fit enough to have full intensity conditioning treatment.
RIC is often given alongside drugs that suppress your immune system because it's not strong enough to completely remove all your blood stem cells. This means that after your transplant, there will be a mixture of your own and your donor's stem cells in your blood. We call this a chimerism, and the closer it is to 100% donor, the better. Your chimerism will be monitored by your doctor regularly to make sure that everything is ok. You may be given a donor lymphocyte infusion (DLI) to boost your immune system and 'top up' your chimerism.
You can track your chimerism, and other medical data, with My Transplant Tracker, our mobile phone app.
Unfortunately, there is a higher chance of developing complications or relapsing after transplant with RIC. However, it allows many patients to receive a potentially lifesaving (or life-prolonging) stem cell transplant that wouldn't have otherwise been possible. It's often used when older patients need a transplant, particularly for treating acute myeloid leukaemia (AML) and myelodysplastic syndrome (MDS).
Information published: 02/08/2021
Next review due: 02/08/2024
Related links