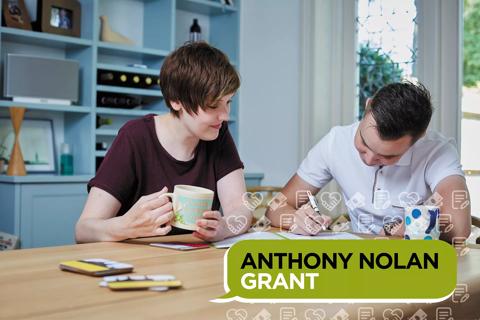 Anthony Nolan Grants can financially support patients before, during, and after a stem cell transplant. We offer small one-off grants to help with any unexpected costs you may have.
What should a grant be used for?
An Anthony Nolan Grant is typically under £250. It can help cover any extra costs you may experience as a result of having a stem cell transplant, such as:
Who can apply?
You can apply for a grant if you have had any type of stem cell transplant for a blood cancer or blood disorder, or are due to have one in the next six months.
You must also:
be a UK resident
have no more than £6,000 in savings (if a single person) or £8,000 in savings (if a couple or family).
How do I apply?
It's simple and quick to apply for an Anthony Nolan Grant:
In order to be successful, you must:
explain the specific needs you have which are related to your stem cell transplant, and outline how an Anthony Nolan Grant will help to address these needs
explain how you intend to spend your grant, and be specific about how you have estimated your costs, for example: 'Parking for 10 trips to the hospital at £8 per visit'
include other financial support that you are receiving, for example: 'We have received £30 from the Healthcare Travel Costs Scheme'.
Top tip: Save a copy of your answers on your computer for your future reference or so you can work offline.
Next steps
Your healthcare team
We will shortly follow up with your healthcare team and ask them to complete a medical report on your application form.
Please make sure you have included up-to-date contact details of a doctor, nurse, or allied healthcare professional involved in your transplant care (e.g. dietician, physiotherapist, or social worker).
Contact us
If you get stuck completing the form, or have any questions at all, please do get in touch!
You can speak to our friendly Patient Services team on 0303 303 0303 (9am to 5pm, Monday to Friday) or email patientgrants@anthonynolan.org
FAQs
Top tips for a successful application
+
-
It's worth bearing in mind that the panel will consider the following on each application:
The extent to which there is a compelling case about the need for financial support at this time.
A clear connection between the impact of needing or having a stem cell transplant and the items or services requested.
Whether the information in the Medical Report supports the items or services requested.
Whether you have received grants from other charities or organisations, such as Macmillan. Patients who have received other grants may still be eligible for an Anthony Nolan Grant.
Whether the estimated cost of an item or service is reasonable. If the cost seems higher, an explanation for this would be expected.
Whether there are statutory resources, or any other alternative forms of support available.
Whether comfort and quality of life is compromised.
I have already purchased something, can I still apply?
+
-
Yes, if you have purchased something within the last three months, you can still apply.
How long will it take to receive my Anthony Nolan Grant?
+
-
Once approved, you can expect payment within approximately four weeks.
What happens if there are any issues?
+
-
We will be in touch you and your healthcare professional if we have any questions.
Is there any other financial help available?
+
-
Grants from other charities or organisations are available. Contact your local Citizens Advice for details.
Macmillan Cancer Support offers grants for people undergoing treatment for cancer, including blood cancer.
Financial support charity Turn2us lists grants that you may be eligible for. They also have a useful Benefits Calculator.
Will this affect any other government benefits I am already receiving?
+
-
No, don't worry, this grant application won't affect other government benefits.
Information published: 10/05/21
Next review due: 10/05/23
Related links
Order or download publications