September is Blood Cancer Awareness Month, and this September, people all over the country were Walking Together, Saving Lives. Thank you so much if you took part.
We'll be Walking Together again in September 2022 for Blood Cancer Awareness Month.
Will you be there? Register your interest now so you don't miss out!
While everyone takes a well-earned rest after their walks this year, we've totted up the grand totals. And we're delighted that the 2021 Walking Together community raised over £36,000, which is enough to add 900 new potential lifesavers to the stem cell register.
We're so proud of our Walking Together community!
How does Walking Together save lives?
2021 has been another strange year. The edges of normal life have been returning bit by bit as the pandemic slowly eases. But when someone is diagnosed with blood cancer or a blood disorder, their normal changes forever.
By fundraising for Walking Together, you can help make sure people receive the support and information they need, fund research and give blood cancer patients hope of a second chance at life.
We want you to know that each step you take and every pound you raise will help people with blood cancer.
"Why I'm Walking Together" Read real life stories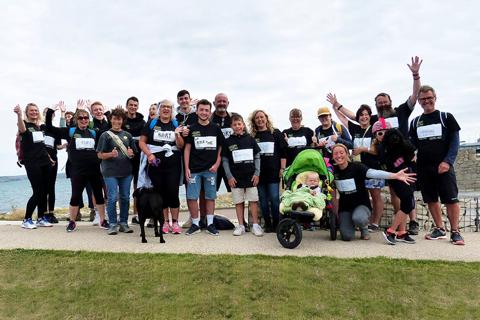 Lyn's Walking Together story
'It was a lovely day. We were all chatting and we had a purpose, I think that means something, it makes it feel special.'
Lyn's son, Rory, was seven years old when he was diagnosed with leukaemia. A stem cell transplant from a matching stranger saved his life and now, 10 years on, their family is celebrating Rory's promising future.
'We had some setbacks with Rory's transplant which felt like bombshells, but when the donor's stem cells finally arrived… it was a bit anticlimactic! You expect a big procedure but Rory carried on playing with his Lego.
'10 years later, he's just passed his driving test, turned 18 last month, and is at college planning his future. We don't really celebrate anniversaries but I do think, "Look at him now!"
'We live in quite a close-knit community so Walking Together seemed a perfect way for us to all support Anthony Nolan. I made sure it was a relatively easy route so anyone could get involved. We went through the town which was great for publicity, and along the seafront as well – you can't really beat that, can you?
'So many people wanted to get involved. There were some who said they couldn't manage the whole walk so they met us halfway. Some others didn't do the walk, but they met us along the route with packed lunches!
'We did the walk with another family nearby whose little boy, Kyle, also had a transplant. He looked pretty tired by half way and my eldest lad offered him a piggyback, but he folded his arms and said, 'Nope, I'm doing it, I can do it.' And he did!
'I was flabbergasted by how well we did with our fundraising. I originally set a target of £400, and we ended up raising three times that. It gives you that feel-good factor knowing you're helping people and because of our personal experience, we know exactly what that help means.
'I think once you've done something like this, it becomes an annual thing. I've had friends asking me, "Oh Lyn, what date are we doing it this year?" - and it is in the calendar now! It would be lovely to get Rory's donor involved, we're trying to get her over this year.
'As a family, we'll always be eternally grateful to Anthony Nolan. We'll keep doing whatever we can to help raise awareness and raise money. At the end of the day, we're all the same under the skin aren't we?'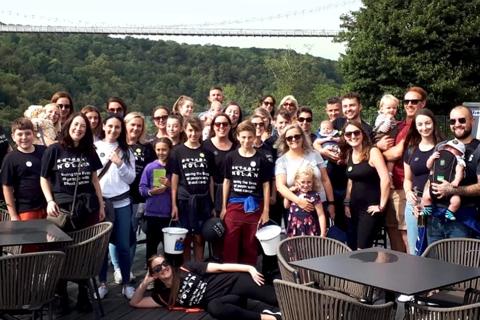 Kimberley's Walking Together story
'Fundraising has been a way of channelling my grief into something positive.'
After losing her dad in 2017 Kimberley organised her own Walking Together event, the Big Bristol Stroll, to remember him and bring people together.
'My dad was diagnosed with leukaemia 10 years ago and his prognosis was really bad, they gave him six weeks to live. Then he had a bone marrow transplant. and because of that donor, he went on to live another full, happy and healthy 10 years, which he obviously wouldn't have had.'
'In 2017 his leukaemia came back and this time it was more aggressive and sadly he lost his battle. My family and I will be forever grateful to Anthony Nolan, as without them we wouldn't have had the extra time with him.'
'A few months later I received an email about Walking Together, saying 'would you like to do something' and I love fundraising. So I got on board and decided to organise a walk in Bristol.'
'I think it appealed to me because there was so much flexibility which was nice. You weren't expected to move mountains, even if you just walk around the park,
'There was just a real sense that it was more about bringing people together for something that's important.'
'I found that organising this event was a great way to encourage a community to come together. It really was a wonderful day.'
'Everyone will have their own personal reason for supporting Anthony Nolan, mine is because they gave me and my family 10 extra years with my dad.'