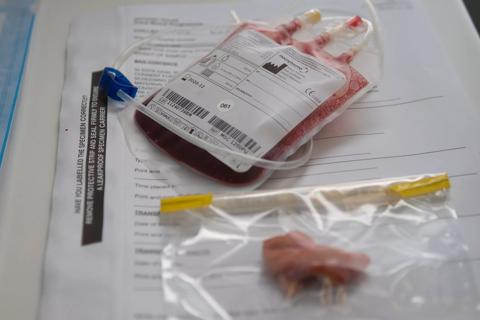 To mark Cord Blood Awareness Month (July 2022) we're sharing insight from Clinical Delivery Lead Dr Roger Horton about the Cord Support Programme from Anthony Nolan – a free suite of support services to make cord blood transplant a doddle.
Cord blood units (CBU) are often provided to transplant centres (TCs) via registries; these registries do an amazing job of organising the whole process from beginning to end to ensure that patients get their best graft in a timely manner with the minimum of fuss.
However, by working more closely with cord blood banks (CBBs) the registry can make additional, crucial expertise available to TC's to make the experience even better!
This is why Anthony Nolan set up the Cord Support Programme. It also enables any TC, irrespective of their level of experience to use cord blood when needed get the best outcome for their patient.
By offering a shortlisting service, making ad hoc selection recommendations, ensuring cell dose meets current guidelines and offering on-site training in search and selection the cord support programme can boost end users confidence in the nuances associated with the early stages of CBU procurement.
Once some good CBU have been identified the service builds upon the initial work by providing a checklist based evaluation of the quality of a CBU as well as summarising any particular CBB operational specifics of note that may impact upon timings or cost of procuring a particular CBU.
It is at this point that TCs can also send out their preferred CBU options to the BSHI CBU selection advisory panel (ggc.cbusap@nhs.scot) for advice upon which CBU might be best for their patient. This will take into account HLA matching, donor specific antibodies, cell dose, accreditation, CBU age and other quality data.
Once release testing has been performed, further advice on the cord quality parameters is available through the Cord Support Programme post thaw data clinic, to give the best possible insight into what good looks like for a particular cord and how this might affect a patient e.g., red cell dose, CFU potency, cell recoveries etc. Training can also be delivered in this area, independent of any CBU request, in order to boost a TC's familiarity with this sort of data.
Lastly, once a CBU is on site at a TC, the Cord Support Programme is able to offer on-site assistance on the day of thawing and infusion to boost staff confidence or assist in minimising product loss from a damaged bag. Again, training is available in this subject area independent of a particular request if required.
On-site services are not limited to CBU from Anthony Nolan or NHSBT, we are happy to assist you with any CBU as needed and all these services are free.
The aim of the Cord Support Programme is to provide a simple, effective support service from beginning to end allowing TC's to focus on their patients rather than the hassles involved in CBU procurement and data interpretation.
Apply for more information or training for your Transplant Centre online.