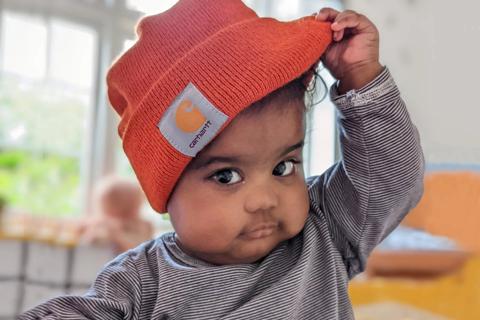 Like most toddlers, 15-month-old Evie Sanassy is most concerned with playing on the swings in the park or a sweet treat like raspberries or red velvet cake. However, Evie is now relying on the kindness of strangers as she has been diagnosed with the rare immune disorder Macrophage Activation Syndrome (MAS) and requires a stem cell transplant to treat her condition. Evie's family who recently moved from Newham to Rochester is working with blood cancer charity Anthony Nolan, on the #Match4Evie campaign, to help find Evie a perfect match and specifically to raise awareness of the need for more South Asian stem cell donors.
Evie was initially assumed to have Kawasaki disease after developing prolonged fever and what looked like a heat rash on a family trip to Mauritius in early October. Evie was air-lifted to South Africa in late October on the advice of her doctor, in the hope of better diagnostic testing. After two weeks in South Africa, Evie's condition stabilised and she was able to return to the UK. At Evelina children's hospital, in December 2021, doctors diagnosed Evie's illness as Systemic Juvenile Idiopathic Arthritis (SJIA), also known as Still's disease. At the start of March 2022, doctors at Great Ormond Street Hospital (GOSH) also diagnosed a deadly complication to Evie's condition - Macrophage Activation Syndrome. Evie's illness progressed to a very rare situation where standard treatment was not working and she has required rounds of chemotherapy to keep her disease under control.
Evie's treatment has been tricky due to the combination of severe MAS with Still's disease but the world class medical team at GOSH have managed to keep her stable. Chemotherapy, a gruelling treatment for Evie's condition, cannot be continued indefinitely so doctors are now looking to move onto a stem cell transplant to cure her MAS. Working with her doctors, blood cancer charity Anthony Nolan is searching the worldwide network of stem cell registers for a person who is a perfect genetic match to Evie, and who is willing to donate their stem cells to save her life.
Evie's father, Daven Sanassy a software engineer who co-founded Vochlea Music, has said: 'This has been an extremely difficult journey for Evie and our family. It's also difficult when you learn your best chance is now a stem cell transplant but that due to our family's heritage finding a perfect match for Evie is much less likely than for people with European heritage.
'Evie is so young and her immune system so compromised that beyond video calls she hasn't had much chance to meet family or friends or even play with other children as we really do have to wrap her in cotton wool to give her the best possible chance at this stage.
'I urge everyone to consider signing up to the stem cell register and want to stress that not only is the sign-up process simple, but I also want to make clear that those from South Asian backgrounds and other minorities are more needed than any other and signing up is an amazing way to support your own community and people of similar heritage. Donating stem cells is usually a straightforward process similar to donating blood and you could save a child's life'.
The search for Evie's perfect match is made more difficult due to her unique genetic makeup. Patients who are White have a 72% chance of finding the best match from an unrelated donor but this drops to a 37% chance for patients from minority ethnic backgrounds, like Evie. Evie has a mixed heritage with Mauritian, Sri Lankan and South Indian roots and Anthony Nolan is particularly keen on people from South Asian backgrounds to consider joining its register to help reduce these differences.
Henny Braund MBE, Chief Executive of Anthony Nolan says: 'After being told that your child needs a lifesaving transplant it can be devastating to be told that not only are you not a match but that the chances of finding a perfect match are significantly lower because of their heritage. My heart goes out to Evie and her family as they await news and Anthony Nolan will support them every step of the way.
'Ethnicity can determine who can receive a stem cell transplant. We're working hard to stop this from happening, and are calling on young people aged 16-30 from South Asian backgrounds to join the register. One day you could be matched to a patient in need of a lifesaving stem cell transplant and bring hope to a family like Evie's.'
People aged 16-30 can join the Anthony Nolan register online at www.anthonynolan.org/match4evie if they are in good general health. In particular Anthony Nolan needs more young men to sign up as they are underrepresented on the register. Young men currently account for only 18% of the charity's register, but they make up an astonishing 55% of all people asked to donate.