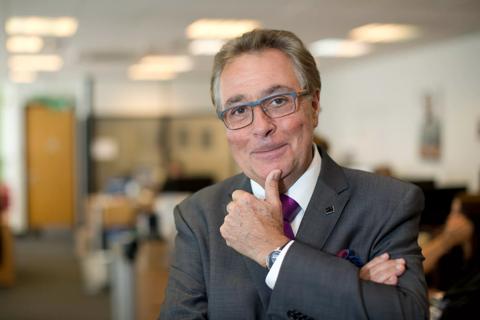 Congratulations to Professor Alejandro Madrigal who has been awarded the honour of Officer of the Order of the British Empire (OBE). Professor Madrigal has been recognised in the Platinum Jubilee honours list for services to haematology two years after retiring from Anthony Nolan following 27 years as the charity's Scientific Director.
Anthony Nolan's Chief Executive, Henny Braund MBE, said: 'We are incredibly proud of Alejandro for receiving this honour for services to haematology. Alejandro worked tirelessly during his time at Anthony Nolan to increase our understanding of stem cell transplantation and improve treatment for the thousands of people who need this lifesaving therapy each year.
'Driven by the will to save and improve the lives of people with blood cancer and blood disorders, Alejandro's legacy will benefit future generations of patients. I have seen first hand his passion for teaching and education which countless students and colleagues have benefitted from. Former students are currently leading important research centres and registries around the world.
'On behalf of everyone at, and connected to, Anthony Nolan, I wish to congratulate Alejandro on this thoroughly deserved honour.'
Commenting on his award, Professor Madrigal said: 'I am hugely honoured to have received this award, particularly in the year of Her Majesty the Queen's Platinum Jubilee 2022.
'I feel it is a real testament to how fortunate and privileged I have been to work with so many supportive and exceptional colleagues, to whom I am forever grateful, for their dedication in improving the outcome of the lives of patients with blood cancer in need of a stem cell transplant.
'I would like to give special mention to Shirley Nolan, who in 1974 established the world's first unrelated bone marrow register in her son, Anthony's, name. I feel she would be very proud of the extraordinary achievements, passion, and dedication of everyone who is part of this magnificent institution. She would also be proud of the increase in donor registers around the world, through which, today, there are more than 40 million donors.'
Professor Madrigal was appointed as Anthony Nolan's Head of Research in 1993 and in 1995 became the charity's first Scientific Director. He set about creating the Anthony Nolan Research Institute with the energy, passion and dedication for which he is renowned.
Under his stewardship, the Anthony Nolan Research Institute grew from strength to strength and today enjoys a global reputation for innovation and impact, particularly in relation to the continuing quest to uncover the impact of HLA matching on stem cell transplant success. Professor Madrigal's contributions to the field of stem cell transplantation, one of only a few curative therapies for patients with blood cancer, have resulted in the lives of countless patients in the UK and worldwide being saved. His contribution to the field, and the legacy of his leadership and research, are undoubtedly of national and international significance and deserving of recognition.
During his tenure at the Anthony Nolan Research Institute, Professor Madrigal and his team led pioneering research to improve our understanding of the genetic factors that contribute to a successful stem cell transplant, including inventing and patenting innovative techniques, technology and methodologies. As a result, unique, optimal donors can now be rapidly identified from a global panel of nearly 40 million – a necessity for patients with blood cancer and blood disorders. Importantly, his creative research has been the basis for a recent sharp and sustained improvement in transplant survival and, in some diseases, a doubling of survival rates.