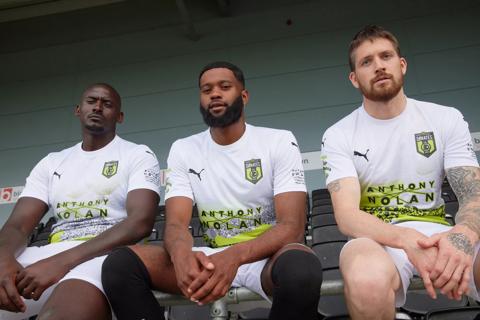 Kings of YouTube football will change their name to 'SE Donates FC' in a drive to increase youth registrations for stem cell donation
The UK's leading blood cancer charity, Anthony Nolan, has teamed up with Sunday league football club SE Dons FC for an inspiring re-brand to raise awareness of the urgent need for 16–24-year-old men to join the stem cell register. For one matchday only, SE Dons will become SE Donates as the team take on London rivals ShoTime FC on Sunday 5th June at Bromley FC in 'Match for a Match'.
Since their formation in 2014, rapper Don Strapzy's SE Dons have taken the football world by storm. With an array of commercial partners, huge attendances at their Sunday league matches and thousands of followers online that watch every kick of their weekly football content.
With more than half (58%) of all stem cell donations provided by young men, this demographic can be gamechangers for blood cancer treatment in the UK, however male donors aged 16-30 currently make up just 18% of the register. As a football club is only as good as its squad, Anthony Nolan and SE Dons have issued a rallying cry to encourage more young people to register to donate their stem cells and help save someone's life.
As well as Match for a Match, the pair have teamed up to drop a limited-edition kit for the occasion, swapping the iconic Dons green for an innovative design complete with a remastered 'SE Donates' badge that has been co-designed by existing patients and donors and Tottenham Hotspur FC kit designers Tottex. An exclusive run of the kit will be available for purchase from the SE Dons online store with all proceeds being donated to the charity, so Dons all over the UK can wear the club's new colours and crest with passion and pride.
The club's 'Anything' mantra, which nods to the team's unwavering support for each other, caught Anthony Nolan's attention as a partner that would drive authentic support for the cause among young people. Fans are invited to sign up to attend the free match on the Anthony Nolan website, where they can find more information on how to become a stem cell donor.
Alex Cupit, Online Recruitment Lead at Anthony Nolan says: 'The UK's existing stem cell register needs to urgently grow. The younger the pool of donors, the more likely a match will be found, and the more effective treatment can be for patients, therefore many more young people are needed to join the register. Once signed up, there is a 1 in 800 chance of being asked to donate in the next five years - so if you're named in the squad, you won't necessarily make it on to the pitch'.
'We were incredibly inspired by SE Dons 'Anything' mantra and the support and devotion they provider for their teammates, fans and wider family. We knew they were the perfect partner for Anthony Nolan, helping to drive that support and create action for our stem cell donor register.'
Speaking on the partnership, Don Strapzy founder of SE Dons said: "The Dons are always looking for ways that we can make a difference on important issues and the lifesaving work that Anthony Nolan do is something we're proud to be involved with.'
'Our 'anything' mantra means that we do anything for each other on and off the pitch, Anthony Nolan shares the same energy. Together, we can build our squad to fight against blood cancer and blood disorders by encouraging young people to make a difference and join the stem cell register.'
SE Donates will take on rivals ShoTime FC in 'Match for a Match' at Bromley FC, where the stadium will host a pop-up registration centre for those wanting to join the Anthony Nolan squad.
The rename will also see all of SE Dons digital assets, including website and social media, completely transformed in Anthony Nolan colours. Alongside this, on 10th May a full day of content dedicated to the cause will look to inspire young people to make a difference and register to donate their stem cells.
For more information on the match and to find out how to join the stem cell register visit: www.anthonynolan.org/M4AM
Find out how you can get your hands on the limited-edition SE Dons x Anthony Nolan jersey at www.sedons.com