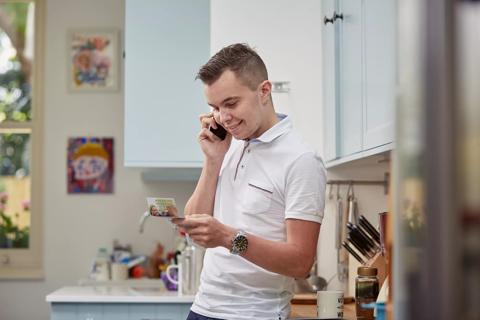 Stem cell transplant is so unique in its challenges, sometimes only someone who's had one can support somebody going through it.
What is peer support?
Peer support is when people use their own experiences to help someone else. This might involve providing emotional support or information to someone who is going through a similar situation to one they have been through themselves.
What is Anthony Nolan's peer support service?
There are lots of peer support services out there but we felt that the experience of a stem cell transplant is so unique in its challenges, that only someone who'd had a transplant could support someone going through a similar experience.
Our peer support service is provided over the phone (rather than face-to-face) and support is given by a trained volunteer who has been through a stem cell transplant at least two years ago.
We have recommended that a maximum of six calls take place for each peer support pairing.
Who can apply for peer support?
Anyone affected by a stem cell transplant can apply – this includes people before and after a transplant. You can apply or be referred by a member of the Patient Services team.
How can peer support help?
There's a lot of research that shows how peer support can help the person receiving it to improve their coping skills, offer reassurance and a sense of normality to what can feel like a scary place.
Peer support can also reduce isolation, increase information sharing and ensure a better understanding of the experience and what to expect in the future. This has been shown to help with managing emotional distress, and can make adjusting to the experience of a transplant easier.
Peer support can also increase people's confidence in talking to their transplant team, and sharing information. Research has shown that a peer support volunteer can also act as an important additional member of a person's transplant team, helping them to prepare for what's ahead, with the combination of lived experience and facts and information from their medical team. 
Are volunteers looked after too?
We very carefully selected our Anthony Nolan volunteers to take part in this programme. Each person has received extensive training from us about the best way they can use their personal experience to benefit others while maintaining confidentiality and protecting themselves and the person seeking help.
We are committed to allowing our volunteers open access to support from us so that they never feel overwhelmed by the important role they are doing.
How can I access peer support?
You can refer yourself directly via email or be referred by your clinical nurse specialist. Once you contact us, a member of our team will be in touch for an informal chat to make sure that this kind of support is right for you.
Once we know a bit about you, we'll try to match your questions and situation as closely as possible to one of our trained peer support volunteers.
Before your first call can take place, we will send you a questionnaire called a FACT-BMT by email or post to send back to us. We'll also send you one at the end of your peer support sessions to check that having access to this kind of service is beneficial to transplant patients.
To find out more, email us with a contact phone number: patientinfo@anthonynolan.org. A member of the team will then arrange a time to call you for an informal chat.
If you don't feel that peer support is for you, there a lots of other ways that we can help.
Information published: 14/01/22
Next review due: 14/01/22
Related links
Support for parents, families and friends