Lifesaving is a team sport
From Arsenal to York City, everyone has a football team that they are loyal to. But what if we all had a common goal in mind for a change – a goal to save more lives.​
It shouldn't matter who you support or where you come from, what should matter is that patients with blood cancer or a blood disorder should all be given an equal opportunity of a second chance of life. 
One match can change everything.
If you have blood cancer, a stem cell donation could be your best chance of survival. But you can't just receive stem cells from any donor – they need to be a good genetic match.
The Anthony Nolan register is a squad of 900,000 registered donors and it's networked with other registers across the world. Each registered donor has a genetic profile – their HLA type. There are literally millions of combinations of HLA and 41% of people on the Anthony Nolan register are totally unique. You are even more likely to have a unique type if you come from a minority ethnic background.
So, the more people that join the League of Lifesavers, the more likely patients will find the lifesaving match they need.
90 minutes on the pitch. 10 minutes to save a life.
Here are the facts
You can join online! You'll get a pack in the post for you to do your cheek swabs and send back. We'll test your samples and add your information to the stem cell register.
We'll organise the whole thing. We support you at every stage of your donation and arrange everything, from travel to accommodation. We've got it all covered.
You'll stay on the register until you're the grand age of 61. If you ever come up as a match for someone with blood cancer, we'll be in touch.
There are two ways you might be asked to donate:
90% of people donate via their bloodstream in a straightforward process, called peripheral blood stem cell (PBSC) collection. Joe, who donated via PBSC, said 'I was hooked onto the machine for around 4/5 hours so it's pretty boring! Afterwards I felt pretty tired as you would expect, but felt really good that I had done something good for someone.'
10% have their stem cells collected via their bone marrow while under general anaesthetic. After Donna's donation, she said 'Bone marrow donating done! I can honestly say it has been an amazing and surprisingly pain-free experience (I am a wimp!). Knowing I've given someone a second chance at life is such a fantastic feeling.'
What do real donors say?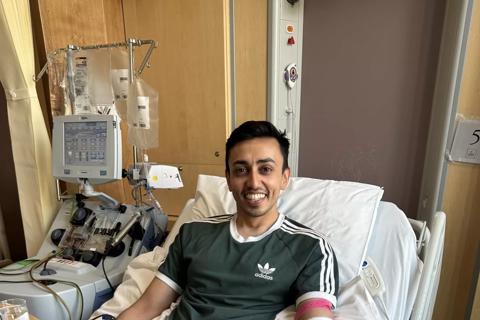 'Finding out I was a match was really unexpected. When you sign up, they say you could be on your register your whole life and never get called. I was first contacted in December (2022) about being a potential match and I sent some blood samples back, but I didn't hear anything for about eight weeks, and I thought maybe I wasn't the best match. Then, all of a sudden, I got the confirmation!
I'm really happy to have donated because I were often telling people, 'It's not meant to hurt', and now I can actually say 'It really doesn't.' The donation day was really positive, and everything was organised so well on Anthony Nolan's side that it really wasn't a big deal on my side. There was no hassle or harm. The hospital staff were really kind and reassuring.'
- Amrit, stem cell donor, Manchester United supporter
Watch our donation animation
This animation takes you through a lifesaving journey - from getting the call if you come up as a genetic match for someone in need of a transplant, to the step by step process of donating your stem cells through your bloodstream or bone marrow.