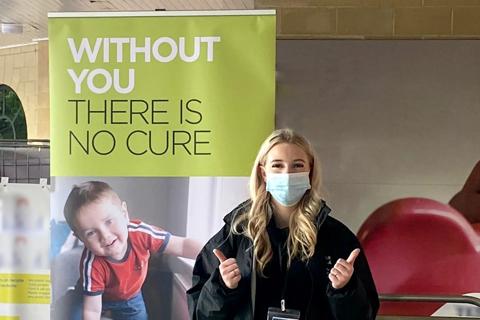 You may have seen us out and about.
Fundraising to save the lives of people with blood cancer and blood disorders.
Meeting you face to face, talking about our work, and giving people the opportunity to donate is an essential and highly effective part of our lifesaving fundraising programme.
Face to face fundraising helps us find new supporters who are happy to commit to a regular gift and join our mission to save the lives of everyone who needs a stem cell transplant.
Potential supporters have the opportunity to talk directly to a representative working on behalf of Anthony Nolan. It gives them access to information so they can understand more about how we operate and how their money will be used to help save and improve lives.
Face to face fundraising is used by many charities to recruit new long-term supporters through private venue fundraising teams.
How do I recognise an Anthony Nolan fundraiser?
You should be able to recognise an Anthony Nolan fundraiser at a glance. All our fundraisers must wear Anthony Nolan branded clothing, t-shirts or jackets, with our logo. They will also have a stand and banners, displaying our logo clearly.
Fundraisers are also obliged to wear an ID badge with their name, photo, ID Number, and our registered charity ID number.
If you are unsure as to whether someone claiming to represent Anthony Nolan is an authorised fundraiser, contact our Supporter Care Team on 020 7424 6626.
Where does Anthony Nolan fundraise?
Private sites
Private site fundraising means our teams visit a variety of public locations such as train stations, shopping centres, supermarkets, and public events across England, Scotland and Wales.
The teams will set up an Anthony Nolan stand to engage with people, provide them with information about our work and sign-up supporters who are interested in donations.
About our fundraisers
Our teams of fundraisers are enthusiastic and keen to give potential supports the best possible experience when it comes to learning about Anthony Nolan's work. They are trained to the highest possible standard. They are dedicated to raising money and building awareness of our commitment to saving the lives of people with blood cancer and blood disorders.
We are committed to ensuring that our fundraisers offer a positive experience to the public when interacting with them, and are understanding, respectful, friendly professional and helpful.
We are members of the Chartered Institute of Fundraising (CIoF) and the Fundraising Regulator. All of our fundraisers follow the code of conduct set out by the CIoF.
We also use mystery shoppers and carry out quality calling to make sure that our fundraisers meet the high standards that we expect from them.
About our agency
We work with an agency, Appco UK, to carry out our face to face fundraising activities.
All fundraisers working on these teams are trained by Anthony Nolan to ensure they are knowledgeable and able to provide an excellent quality of service in line with our own standards.
Appco UK are one of the longest-running and most experienced face-to-face supporter recruitment agencies in the world, with a network of more than 4,000 fundraisers across 24 countries. Appco UK have been selected to partner with us and provide professional private sites fundraising services.
Appco UK are active members of the Institute of Fundraising. We are confident with the quality of their work and their respect of compliance with all relevant laws and codes of practice.
Get in touch
We are committed to offering the best experience through delivering our fundraising operations adhering to highest possible standards and we do take complaints very seriously.
If you have any complaints, concerns or feedback, please do get in touch with us and we will aim to get back to you within 3 working days.
To make sure our fundraising operations deliver the safest and best possible experience for our supporters, we adhere to the highest possible standards and abide by the guidelines put in place by the Chartered Institute of Fundraising (CIOF) and the Fundraising Regulator. You can download our Private Sites Risk Assessment document below: