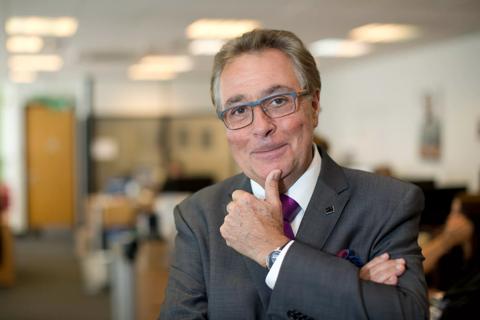 Key highlights from the Anthony Nolan Research Institute Symposium
In early March, we hosted a Symposium on the contributions by the Anthony Nolan Research Institute (ANRI) to haematopoietic stem cell transplants (HSCT) over 28 years, and the status of innovative new cell therapies.
Over 500 healthcare professionals from around the world attended the virtual event, which was hosted by Professor Charles Craddock, Academic Director of the Centre for Clinical Haematology at the Queen Elizabeth Hospital and Professor Alejandro Madrigal, who recently retired from his role as Scientific Director at Anthony Nolan.
The symposium consisted of four sessions, each focused on a key theme and hosted by eminent researchers including Prof Steven Marsh, Chief Bioinformatics and Immunogenetics Officer at Anthony Nolan, Prof David Marks, former director of the IMPACT clinical trials network and Prof John Snowden, President of BSBMTCT. The sessions looked at:
Innovative therapies in haematopoietic malignancies
Novel therapies for and after HSCT
Future challenges
Immunogenetics and the search for the optimal donor
After such an insightful event, we've pulled together some of the key highlights to share:
Graft versus Host Disease (GVHD)
Although over half of all allogenic transplant patients develop GvHD as they recover, not enough progress has been made in the last 20 years in the treatment of GvHD. At the symposium, we learnt that there are promising new GvHD treatments in early clinical trials which could help with this unmet need.
Cytomegalovirus (CMV)
We know that reactivation of CMV can cause many complications for patients post-transplant. The National Institute for Health and Care Excellence (NICE) approved the pharmaceutical Letermovir for NHS use for stem cell transplant patients in 2019, after consultation with Anthony Nolan, and data presented at the symposium showed that Letermovir is saving the lives of patients with CMV right now.
Immunogenetics
Speakers shared insights on gene editing techniques being used to generate universal cell therapies. Excitingly, these see donated cells being used without the need to perform HLA matching. The possible impact of using whole genome sequencing analysis to improve stem cell transplantation was also explored.
Cord in HSCT
We heard positive news on how successful cord blood transplants can be when cells are combined from two separate donations. A takeaway message from this session was that cord remains a critical option for a significant number of patients who do not have a suitably matched related or unrelated stem cell donor. This work is also contributing to our efforts to diversify the Anthony Nolan stem cell register so that patients from minority ethnic backgrounds have a better chance of finding a suitable donor.
Cell Therapy
Another key focus of the event was the role of cellular therapy and the progress that has been made in recent years with the approval of CAR-T therapies for patients with specific types of leukaemia and lymphoma. Interesting data was presented on CAR-T treatments currently in development for multiple myeloma and acute leukaemia. Speakers also looked at advanced medicinal products (ATMPs) beyond CAR-T, for example work being done with Natural Killer (NK) cells in immunotherapy.
It was questioned whether curative cell therapies will replace the need for stem cell transplants, but for now, stem cell transplants remain a central part of the treatment pathway.
Celebrating Prof Madrigal
As well as these fascinating discussions, the event was also a celebration of the career of Professor Madrigal and his role at the helm of the ANRI over 28 years. During this time, he was responsible for many scientific advances including the importance of young donors for stem cell transplant patients, the influence of matching CMV status on transplant success, and establishing the Anthony Nolan Cord Blood Bank.
Reflecting on the symposium, Tony Pagliuca, our new Scientific and Medical Advisor, said 'the breadth of his influence on stem cell transplantation was highlighted by the superb presentations from international collaborators showcasing the important interactions in transplantation, immunogenetics and cellular therapy that Prof Madrigal and ANRI has led.'
Henny Braund, our Chief Executive, said 'Prof Madrigal's achievements have paved the way for us to save the lives of so many patients... our science is at the core of what we do and the foundations laid by Prof Madrigal and many others like him will help us save even more lives in the future'.

Thank you to all of the speakers:
Professor Charles Craddock, University Hospitals Birmingham NHS Foundation Trust, UK
Professor Alejandro Madrigal, University College London, UK
Professor Antonio Pagliuca, King's College Hospital NHS Foundation Trust & Anthony Nolan, UK
Professor Hermann Einsele, Julius Maximilians University, Wurzburg, Germany
Professor Mohamad Mohty, Saint-Antoine Hospital and University Pierre & Marie Curie, France
Professor Rafael Duarte, University Hospital Puerta de Hierro Majadahonda, Spain
Professor David Marks, University Hospitals Bristol NHS Foundation Trust, UK
Dr Bronwen Shaw, CIBMTR and Froedtert and Medical College of Wisconsin, USA
Dr. Kim Orchard, University Hospital Southampton, UK
Prof John Snowden, Sheffield Teaching Hospitals NHS Foundation Trust, UK
Dr Rob Danby, Anthony Nolan, UK
Professor Steven Marsh, University College London & Anthony Nolan, UK
Prof Nicolaus Kroeger, President EBMT, University Hospital Hamburg-Eppendorf, Germany
Professor Paul Veys, Great Ormond Street Hospital for Children NHS & University College London, UK
Professor Fred Falkenburg, Leiden University Medical Centre, The Netherlands
Professor John Barrett, George Washington University Cancer Centre, USA
Professor Per Ljungman, Karolinska University Hospital, Sweden
Professor Salim Khakoo, University of Southampton, UK
Professor Rafael Arguello, University Autonoma of Coahuila, Mexico
Professor Robert Peter Gale, UCLA and Imperial College
Professor Effie Petersdorf , University of Washington, USA
Dr Sergio Querol, Blood and Tissue Bank, Barcelona, Spain
Dr Juliet Barker, Memorial Sloan Kettering Cancer Centre, USA
Ms Henny Braund, Anthony Nolan, UK
To find out more about our work at the Anthony Nolan Research Institute, click here