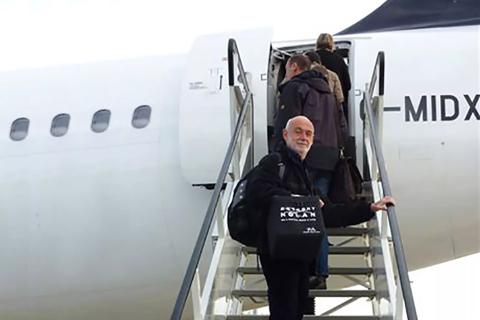 Peter Hodes, 75, has just retired from being an Anthony Nolan volunteer stem cell courier after eight incredible years. Here, he shares his story – why he became a courier, his most dramatic trips, and how he feels about retiring from the role.
I got involved with Anthony Nolan after I donated one of my kidneys to a friend, 15 years ago. It was the best thing I ever did. I couldn't believe I was a match for her and could save her life. I then became a blood and platelet donor, and while I was donating I read an article about Anthony Nolan and decided I'd volunteer!
I have 72 hours to get the stem cells from the donor to the patient
I don't suffer with stress, but I have had dreams about leaving the box with the stem cells on a train. On a plane I can put the box in an overhead locker – you know it's not going anywhere – but when I'm on a train or bus, it never leaves my side.
I have to take public transport. Imagine if I was driving a car, had an accident on a country lane and no one found me. The stem cells would be lost. You're consciously aware that you're carry something that could give someone a second chance of life.
Of course, public transport comes with its own drama. I had one trip where I was caught by a hurricane in America. I arrived at the airport to fly back to London and the woman on the flight desk said: Sorry all flights are cancelled.' I took my box, put it on her desk and said, 'In this box are stem cells that are urgently needed for a patient. Please, please, you have to get me back to the UK…'
People can be just fantastic
She dropped everything. She arranged for me to fly on a little propeller plane – she even held the flight for me – and re-routed me to get me back to the UK even earlier than planned. She was brilliant.
You do meet some amazing people. Coming back from Hanover, the pilot radioed ahead to Heathrow to make sure we'd land on time so I wouldn't miss my connection. They upgraded me to club class too! It turned out that the partner of one of the cabin crew had leukaemia and was saved by a stem cell transplant themselves. I hear so many incredible stories.
A bittersweet end
Since the COVID-19 pandemic, I haven't been able to volunteer. And now I'm 75, it's time for me to step down. My 375th courier trip was my last before the first lockdown in March 2020, and I flew to Dusseldorf. I was sitting in a coffee shop and got chatting with a family who asked why I was visiting. I took great pleasure in telling them why and, well, the floodgates opened. The husband, a playwright, has a brother who had a stem cell transplant when he was a boy! His donor was American and now, years later, they're great friends. He's even written a play about their story.
Then, on my return flight, I met two other Anthony Nolan couriers. When the pilot heard that she had three medical couriers on board, she wanted to meet us. We were bumped up to business class too so we were first off the plane.
It may be sad that my couriering ended abruptly and prematurely, but what a wonderful way to end what has been an exhilarating eight years!
We are so thankful for Peter's unwavering dedication to his volunteering over the past eight years, helping hundreds of people get their second chance of life. If you'd like to get involved in lifesaving, you can find all our volunteering opportunities on our website.