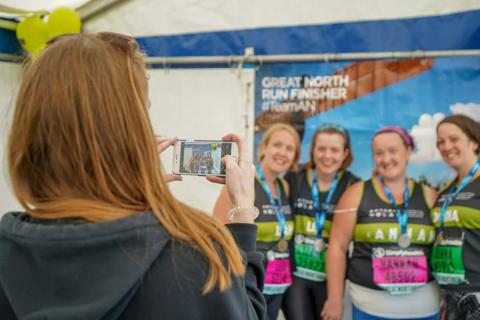 Perfect your fundraising page
Your fundraising page will be your team's foundations. It's where you can share your story, watch the donations fly in, and keep everyone updated on your lifesaving achievements. Here's how you can make your page work best…
Have a team name and logo. Personalising your group with its own name and logo will give it a solid identity that people will want to be a part of.
Tell your story. Why are you fundraising? Who's a part of your team? Why are you so passionate about Anthony Nolan? By sharing your story, you'll give people a reason to donate and follow your group's adventures.
Set a target. JustGiving says that pages which set a fundraising target get a 45% increase in page value. That's a bunch of extra donations. And once you've hit your target, extend it! If supporters see you're close to a new goal, helping you reach it will be too tempting to resist.
Upload lots of photos. Let your supporters put faces to names. Don't be shy. Upload photos of your team members to show that you're real people doing real work, together, to save lives. Share photos of every new fundraising activity to show just how ace you are!
Share updates. Keep everyone updated with what's going on. Are you planning a new event, or have you just smashed one? Let people know about it. Passion is contagious. And even a thank you update can go a long way…
If you need some inspiration, take a look at Team Dylan's team fundraising page, that has their whole team in one place!
Branding your team
Your lifesaving team needs to look the part with a cracking name and striking logo. If you're already one step ahead and have yours sorted, that's brilliant and we can't wait to see it! But some of us weren't born with a creative eye…
Thankfully, we have a whole Creative Studio team at Anthony Nolan who can help! Get in touch by emailing community@anthonynolan.org and adding in the subject line 'I would like help branding my team'. Our own talented team can get to work on giving you a personal brand you'll be proud to shout about. It'll take around 4 weeks for them to work their creative magic.
Growing your team
Have your team all set up? Amazing! Want to get more people on board? Got it. Here's your how-to:
Keep your fundraising page updated and share it on social media to show everyone how amazing it is to be a part of your revolutionary group. 
Create a WhatsApp group or a Facebook page to keep your team updated with what's going on. The more engaged you keep everyone, the more likely it is they'll tell others about it!
Find gaps in your group and invite people to fill them. Need a sporty pal to organise charity football matches, or someone who's good in the kitchen for a Come Dine With Me special? Seek them out, get them on board and keep your team open to newcomers. 
Don't be afraid to ask for help. If there's somewhere you get stuck, go ahead and ask for some extra support when you need it (people love to feel useful). 
Sharing your story
Your branding is on point and your team is full of fantastic fundraisers. Now you need to tell everyone about it!
Here's how to get your story out there:
Share your page, story and updates on social media! Create a Facebook page and Twitter account, and start Instagram story-ing about all your adventures together. Not only can you keep family and friends updated, but you can tag people you want to support you, like your favourite celebs or local press.
Speaking of local press, you can contact them using our press release template!
Keep your updates engaging. Words and emojis are great, but throw a couple of GIFs, photos, and videos in there too.
But overall? Be keen! Don't be shy. You're doing something truly lifesaving together, and the whole world should know about it!