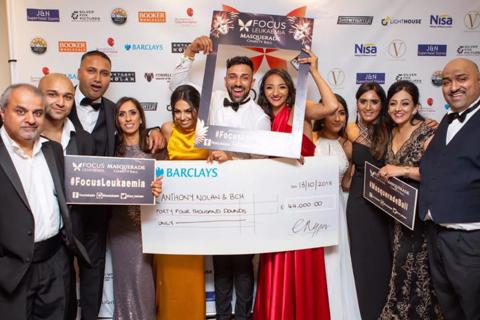 Anthony Nolan saves the lives of people with blood cancer. But we can't do it without you. By creating a fabulous team, you'll be making a huge difference to those who need a stem cell transplant. Together, you'll give families futures, and a second chance for people to not just survive, but live.
Our teamsare incredible, dedicated groups of family, friends, colleagues and communities who fundraise to save the lives of people with blood cancer.
Each group has its own name and identity, but together they're working towards a future where nobody is left waiting for their matching stem cell donor. Your team is your own, and we'll give you the tools and a platform to be your best selves.
Why set up a team?
There are lots of reasons why people choose to create a team together, but often it's to honour someone special. Whether you're celebrating a life saved, remembering a loved one, or supporting someone with blood cancer, creating a dedicated team is a wonderful way to come together in their name.
From setting up coffee mornings and running marathons, to organising virtual quizzes and step challenges, your group members' fundraising will go towards your team total. By fundraising as a group, from wherever you all are in the world, you can raise even more money and make an even bigger impact. Nobody can ignore these bold and brilliant teams. They're unstoppable.
By creating a team, you'll get:
A dedicated fundraising page personalised to your group, which will show your team name, logo, fundraising total, and all the stories you can share
Support from our Creative Studio team in creating a logo for your group, to help you look the part
Opportunities to share your story far and wide
Expert support from a member of our Fundraising team
An online toolkit with everything you need to make your group a success, including fundraising advice, social tips and how-to guides
Plenty of fundraising materials, including stickers, buckets, posters, balloons and an Anthony Nolan t-shirt
A personalised quarterly update to let you know how much your team has raised, and how that money is making a lifesaving difference
Updates from Anthony Nolan and exclusive event opportunities
The opportunity to attend some special events throughout the year, including tours of our laboratories or supporter celebrations
Recognition for reaching key milestones.
Phew, that's a long list of perks!
Set up your team
To kickstart your terrific team, complete the short form below and we'll be in touch!