There are lots of ways for us to work together – and for your staff to reap the rewards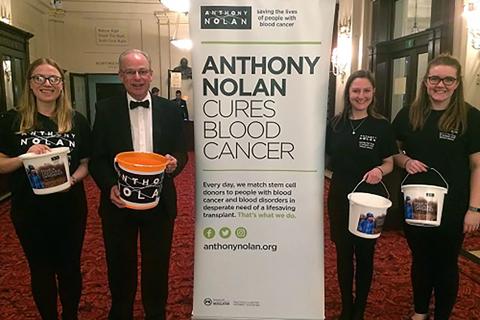 At Anthony Nolan we know that every company is different; each relationship we build is tailored to your requirements to provide mutual benefit to both organisations.
Employee fundraising
Asking your employees and colleagues to fundraise for a charity is an excellent way to bring them together, increase motivation and boost morale.

Whether it's the whole company or a few colleagues, our corporate fundraising team can help your staff get involved in fundraising for Anthony Nolan. We'll be there with great ideas and can provide a bespoke calendar of activities and events across the UK that your staff can take part in.
Make us your Charity of the Year
Anthony Nolan has a wealth of experience in managing Charity of the Year partnerships. We have plenty of ideas for how to make partnerships successful and memorable, and we're dedicated to engaging and motivating staff.

Adopt us as your Charity of the Year and your staff can play a vital part in our lifesaving work.
Sponsorship
Sponsoring one of our events, projects or publications is a great way to boost your company's profile and connect with new audiences. You'll help us raise money and recruit people on our register – all the while generating great brand awareness. There are plenty of ways to get involved, from our high profile Daisy Ball to patient focus days and publications. Read how RSM supports our volunteer courier programme. Our corporate sponsorship team are more than happy to talk you through the options.
Cause Related Marketing
Entering into a commercial partnership with us is a simple yet effective way of showing the community and your customers that you care. Research from Business in the Community shows 86% of consumers are more likely to buy a product that is associated with a cause or issue and 73% of consumers agree that they would switch brands for the same reason. Working with Anthony Nolan we can help you develop your brand awareness, increase customer loyalty as well as increase sales and secure positive PR.
Volunteer for us
Without our amazing volunteers, we simply couldn't do what we do. By lending their skills and time, your colleagues can support our lifesaving work while working as a team in a new environment, gaining new experiences, and having fun. There are a lot of ways your staff can volunteer, from joining our register themselves and giving talks to young people about becoming potential donors, to collecting money and cheering at events and training to courier stem cells between donors and recipients.
Gifts in Kind
Gifts in kind make a huge difference to Anthony Nolan, helping to save us vital funds and time. Do you have products you could donate that we can use as prizes at our fundraising events and auctions? It's an excellent way for you to showcase your products or services while raising vital funds for Anthony Nolan. We'll provide a full acknowledgement and our sincere thanks for any gifts you give us.
Payroll giving
Payroll giving is an easy and tax-effective way for your staff to support us. Employees can sign up to give money each month straight from their pay packet. Donations are taken before tax so an £8 donation is worth £10. Regular donations are really important for us because, with guaranteed income, we can plan big lifesaving projects for the future. Payroll giving is also a great way to boost staff morale and is proven to improve recruitment and retention rates. If your company already has a payroll giving scheme, contact your community affairs or payroll department and nominate us as your chosen charity. We can help with any internal promotions to encourage your staff to support our work. If your company doesn't have a payroll giving scheme, visit the HM Revenues & Customs website to find out how you can set one up. We can help with materials to launch and promote it to staff.
Other ways to help
Make a donation: Your company's donation will help people in need immediately. We'll use it to recruit more donors to our register, so people who desperately need a transplant have the hope of a match.
Nominate us: Companies often rely on their employees to pick their chosen charity. You can help by nominating us and raising awareness of our lifesaving work.
Matched giving: Matching your staff's donations and sponsorship for our cause is a simple yet motivational way of rewarding their efforts.