Are you the understanding, supportive type? Would others describe you as a 'people person'?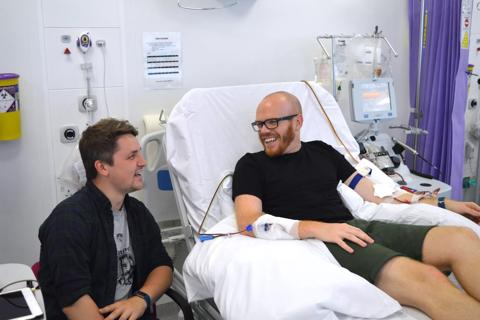 If so, then the role of Donor Visitor Volunteer is for you. You'll see lifesaving in action by meeting our incredible stem cell donors face-to-face as they make their donation, making sure they get a great big thank you from us.
What will you be doing?
You'll play a key role in visiting stem cell donors in one of our collection centres in Sheffield, Manchester, Oxford or London. Visits usually take place on weekday mornings, and can last between 20 minutes and two hours (dependent on number of donors that day to visit and how chatty they are!).
You'll check on how they're feeling, share information about the donor follow-up process, and give them their all-important goody bag! You'll also answer any questions they may have, and feedback to the Donor Follow-Up team after your visit. But, most importantly, you'll be giving a great big thank you from Anthony Nolan.
How does that help our lifesaving work?
This role is absolutely essential in ensuring donors feel appreciated, meaning they're more likely to donate again in future if needed, and encourage their friends and family to join the register too. It also gives them the chance to ask any questions they may have and simply have someone to chat to during their donation.
What skills will you need?
There are few personality traits you need for this role – a few things you need to be:
understanding
supportive
empathetic
a good listener
a good all-round communicator.
You'll also need to live in or near London, Sheffield, Manchester or Oxford.
What will you get out of it?
Plenty. You'll receive lots of training and ongoing support throughout your time in this role. You'll find out:
everything you need to know about stem cell donation – the whole process
how to support our donors
how to answer key questions they might have
the terms we use when talking about stem cell donation.
You'll also get to meet some genuinely lovely humans doing an amazing thing – meeting a donor in action is a unique experience and you'll end up having some fascinating conversations!
You can view all our current volunteering opportunities by following the link below. If the role you're interested in isn't currently available, you can sign up for alerts.