Join #TeamAN on the start line with your lifesaving legs. Whether you're a first-time runner or a marathon master, we have the race for you!
Top Picks!
Virtual
North
Great North Run
Every step you take from Newcastle to South Shields will help give people with blood cancer a second chance of life.
Date: Sun 12/09/2021
Location: Newcastle
Manchester Marathon
Take on the UK's flattest, fastest and friendliest marathon in 2021 to help cure blood cancer. 
Date: Sun 10/10/2021
Location: Manchester
Leeds Half Marathon
Join our team of cancer curers at Yorkshire's biggest half marathon. 
Date: Sun 05/09/2021
Location: Leeds
Asda Foundation York 10k
One of the UK's most beautiful city runs, the Yorkshire 10K takes you through the heart of this wonderful city.
Date: Sun 01/08/2021
Location: York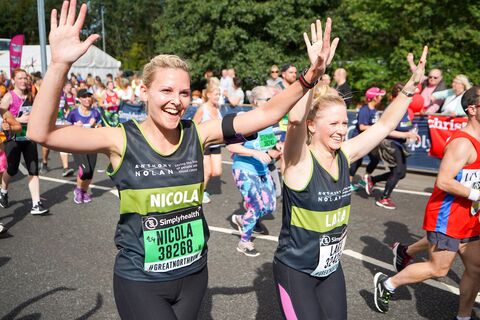 Sheffield Half Marathon
Do something incredible and join the lifesaving #TeamAN for this scenic half marathon with a city finish.
Date: Sun 26/09/2021
Location: Sheffield
Great Manchester Run
With regular music zones across the routes, run the 10K or half marathon with #TeamAN for a race to remember. 
Date: Sun 26/09/2021
Location: Manchester
Robin Hood Half Marathon
The Robin Hood Half Marathon could be the event for you with 13.1 picturesque and lifesaving miles.
Date: Sun 26/09/2021
Location: Nottingham
Chester Marathon
Run through the city of Chester and earn your marathon medal with #TeamAN
Date: Sun 03/10/2021
Location: Chester
Great Birmingham Run
Be a hero for people with blood cancer and take on this 10k of Half Marathon race with #TeamAN.
Date: Sun 10/10/2021
Location: Birmingham
Yorkshire Marathon
Take on this truly Yorkshire marathon and save lives.
Date: Sun 17/10/2021
Location: York
Liverpool Rock'n'Roll Series
Join #TeamAN at the Liverpool Rock'n'Roll Marathon, Half Marathon, 5K or 10K.
Date: 23/10/2021 - 24/10/2021
Location: Liverpool
South
Wales
Scotland
Northern Ireland
Overseas
Check out our training plans to help you prepare for your challenge.
Can't see what you're looking for?