Run through London's beautiful parks for the Royal Parks Half Marathon.
Join #TeamAN for the 13.1-mile leafy green route and help save the lives of people with blood cancer and blood disorders.
We'll help get you race day ready with dedicated support, running tips, and the slickest personalised running vest. We're cheering you on every step of the way!

Join the team!
Just complete a short form for a charity place and pledge to raise £350
Stick with #TeamAN and you'll be treated to a VIP package, including:
The slickest technical running vest
Everyone knows the black and green team mean business. And with your #TeamAN vest on, you'll look the business too.
​Tips to get you race day ready
Stay one step ahead of the rest with expert training tips and a fundraising pack crammed with advice to help you raise those lifesaving pounds. Our friendly fundraising team will also give you dedicated support whenever you need it.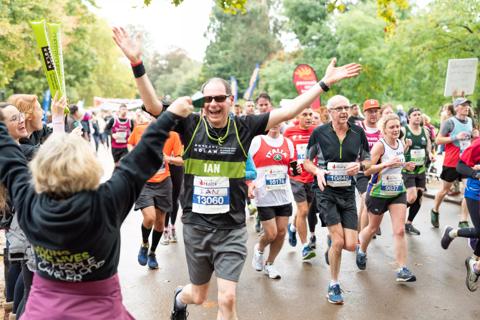 A cheer squad you can hear from outer space
Loud, proud and definitely not afraid to stand out from the crowd – the Anthony Nolan cheer squads know how to get runners over the finish line with their supportive whoops and whistles.