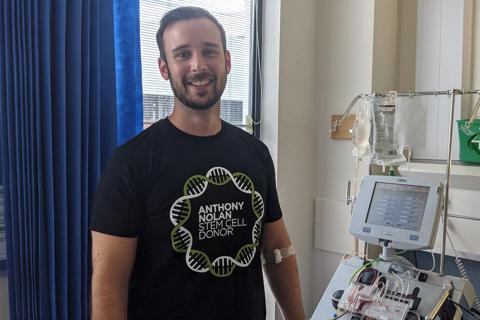 To help you know what to expect when donating stem cells through your bone marrow, this page has the key things to remember, including:
If you have any questions or concerns, don't hesitate to contact your Donor Provision Coordinator at Anthony Nolan.
What is a bone marrow donation?
A bone marrow donation is where stem cells are collected directly from the bone marrow in your hip bone while you're under a general anaesthetic.
This method is less common and is used in 10% of all donations.
How does the donation work?
As our donation animation shows, donating stem cells through your bone marrow is a straightforward procedure. Here are the steps you can expect:
What to expect before your donation:
On the day before your donation, you and your companion will travel to the Collection Centre. You will spend the night there ready to have the procedure the following morning, while your companion will stay at a hotel nearby that we can organise for you.
How does the donation work:
Before the procedure starts, you'll be put under a general anaesthetic that means you won't feel or remember anything about the donation. The procedure itself involves inserting a needle into your hip bone to collect blood enriched in stem cells and takes about 30 minutes.
After the procedure, you'll wake up on a ward with some small puncture wounds in your hip - your body will be busy replenishing the stem cells already. You'll stay one more night in the Collection Centre for observations and then you'll be discharged the next morning.
What to expect in your recovery:
You'll feel achy in the area where the bone marrow was taken from and have some bruising, as well as feel tired after the general anaesthetic. We recommend taking a week off work (depending on how active your job is) and refraining from physical activity for two weeks.
Our donor follow-up team will contact you to provide our post donation care and ensure you have a full recovery, to find out more about this, please view our post donation care advice page.
It's important that you book a GP appointment a month after your donation for a blood test to check your blood counts are as expected. Our Donor Follow-up Team will help you with this.
Real life donor stories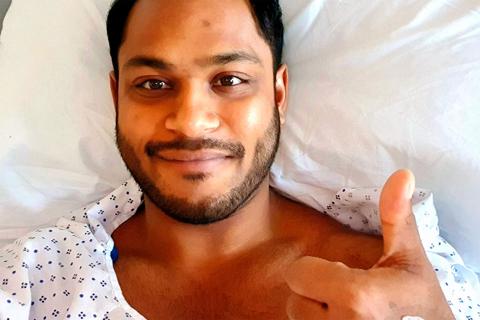 You can read more donor stories on our blog.
Organising your donation and medical
Your Donor Provision Coordinator will arrange everything for your donation and medical, including transport and accommodation.
When will you donate?
Your coordinator will let you know the dates the patient's hospital have requested in line with the patient's treatment. These requested dates are what is ideal for the hospital, but they're not set in stone and can be moved to suit your availability too.
You'll be booked in at the Collection Centre in the weeks leading up to your donation for your medical, and a two night stay for your donation.
Your medical and donation will happen at the same collection centre, with the medical usually being 2-4 weeks before the donation. The medical should take around 2-3 hours, during which time you will have an ECG, a COVID test, a blood draw and be asked to provide a urine sample. You will also be counselled for the procedure, be asked about your general health, any family health history and be asked to sign the consent forms.
If you have any questions, please contact your coordinator.
Where do you donate?
We try and find the most convenient Collection Centre for where you live, and your Donor Provision Coordinator will chat through the locations that are available for the proposed dates.
We currently have Collection Centres in London, at the London Clinic in Marylebone, UCH in Euston and King's in south London, as well as in Sheffield, Manchester and Oxford.
Please note: We cannot guarantee a booking at your preferred hospital.
Travelling to your donation
We cover all travel costs for you and a companion. We will also provide a hotel close to the Collection Centre for your companion. Any travel or food costs you have can be reimbursed in line with our policy. Find out more about our donor expenses.
Donating during COVID-19
During the COVID-19 pandemic, we are taking extra precautions to make sure we keep our donors safe, and we ask that you do the same to ensure the donation can go ahead. Where possible, we will ask you to follow comprehensive social distancing guidelines in the 10 days prior to your donation.
You will be tested for COVID-19 and during these restrictive times, you unfortunately will not be allowed to bring a companion with you. This is for safety reasons.
For more information on donating during COVID-19 please contact your coordinator.
Being asked to donate again
After donating bone marrow you may be asked to consider donating a different kind of white blood cell called lymphocytes. This happens in approximately 10% of cases and it could be months or years after your donation, but it is usually within the first year.