Patient focused research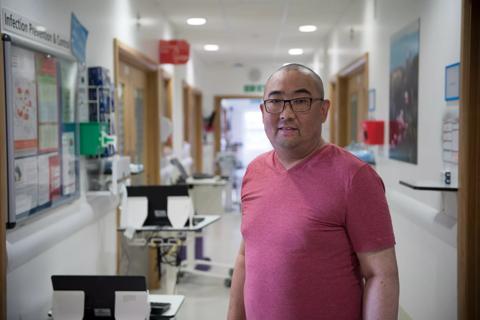 What is patient focused research?
We know that recovering from a stem cell transplant can be a long and difficult journey for many of our patients. Some of these challenges are a result of the transplant itself, but others arise because improvements need to be made within the healthcare system.
Our patient-reported outcomes research aims to give us a better understanding of these challenges and the impact they have on our patients. Based upon our research we develop solutions to meet patient need and campaign for policy change. We also share our research findings with the wider stem cell transplant community to ensure patient-centred evidence is at the heart of clinical and supportive care.
How we work
The Anthony Nolan team are experienced in conducting research using qualitative and quantitative methods such as:
• Literature reviews
• Surveys
• Patient-reported outcome assessments
• Interviews
• Focus groups
• Co-design and piloting of interventions
Patient and public involvement is central to the patient-reported outcomes research conducted at Anthony Nolan. Patient advisory groups shape the research questions we ask and provide input on the methods we use. Each patient advisory group is made up of up to six individuals with either lived experience of receiving a stem cell transplant or experience of caring for someone who has received a stem cell transplant. We consider all aspects of stem cell transplantation from the management of early side-effects to establishing late effects clinics, vaccinations and palliative care.
We also work closely with clinicians and allied health professionals to better understand their perceptions of the healthcare they provide, the challenges they face and how we can make, or advocate for, improvements to transplant services.
Group leader profile
Dawn Hart
Team members
Dawn Hart – Director of Patient Services
Rachel Miller – Lead Nurse
Sue Newell – Head of Patient Involvement
Karen Dean – Clinical Support Co-ordinator
Get involved in our work
If you are a healthcare professional in the field of hematology and transplant care, and you're interested in helping with our research, please do get in touch to discuss how we can work together.
Examples of current projects
PrEQoL – A Pilot study to Evaluate the collection of socioeconomic and Quality of Life data from patients undergoing allogeneic haematopoietic cell transplantation (HCT)
+
-
The purpose of PrEQoL is to pilot the collection of demographic (namely ethnicity and socioeconomic status) and quality of life data among allogeneic HCT recipients using a digital web-based tool hosted by Anthony Nolan. Allogeneic HCT patients will be invited to complete a brief demographic and quality of life questionnaire at four timepoints: before transplant conditioning, on the day of their transplant, 28 days post-transplant and 100 days post-transplant. The primary outcome of PrEQoL is percentage uptake (recruitment rate) at baseline and percentage drop-out (participant retention) at each data collection interval (Day 0, Day 28, and Day 100). Secondary outcomes include completion rates of outcome measures, patterns of missing data, and participant experience and satisfaction with participation within the study (collected via feedback forms). The PrEQoL study will inform a subsequent study tilted SEQoL 'Scaled collection of socioEconomic and Quality of Life data from patients undergoing allogeneic haematopoietic cell transplantation in the UK'. We anticipate the findings from PrEQoL and SEQoL will provide insight on inequity at both the individual patient and the system level and influence planning and provision of future HCT services.
Health professionals' perspectives on Patient Reported Outcome Measures (PROMS) in the hematopoietic cell transplant pathway
+
-
Background: Patient Reported Outcome Measures (PROMs) are being increasingly used to assess the impact of disease and treatment on patient quality of life (QoL) and symptoms. At present patient reported outcome (PRO) data is not routinely collected in hematopoietic cell transplant (HCT) centres. Little is known about health professionals' views or the factors influencing PRO data collection and PROMS use.
Aim: The purpose of this study is to identify enablers and barriers to PRO data collection and PROMs use at HCT centres in the UK. This study will include investigating the knowledge and attitudes of HCT professionals towards PRO data collection and existing PROM tools.
Method: An online survey will be distributed to health professionals within the UK who identify as working with HCT recipients. Survey items will be developed based on the Consolidated Framework for Implementation Research (CFIR) which classifies barriers and enablers to practice adoption into intervention, external organisational, internal organisational, individual and process related factors.
Results: Data from this survey will be used to identify enablers and barriers to PRO data collection across the HCT community in the UK. Specifically, this survey will provide insight on factors internal to specific HCT centres which may impact on PRO data collection including resource, capacity, knowledge and beliefs about PROMs.
Impact: The study findings will be used to the roll-out strategy of the 'SEQoL' programme which aims to collect socioeconomic and QoL data from HCT recipients.
Understanding patients views towards patient-reported outcome and socioeconomic data collection
+
-
The research team are working with Patient Advisory Group members to co-design a qualitative interview study to explore patient views about how socioeconomic and PRO data should be collected in the HCT setting. It is hoped that during the interview study patients will share their perspectives on i) how and when this type of data should be collected and II) whether existing PRO tools reflect the patient experience of wellbeing after a stem cell transplant.
Meet the researchers
Dr Gemma Pugh
Meet the researchers
Dr Christina Yiallouridou