Services for patients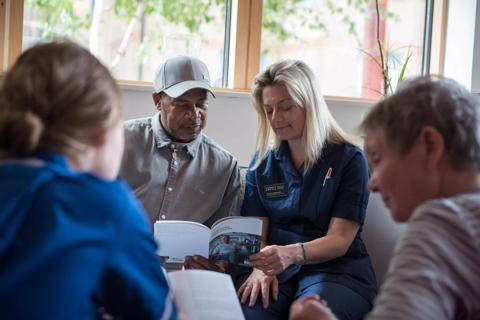 While stem cell/bone marrow transplants can give people hope of a longer, healthier life, the process itself can be lengthy and complex. Not everyone experiences side-effects, but many will. Either way, both the treatment and recovery period can be physically, emotionally, mentally – and at times, financially – draining.
Recognising the burden that stem cell transplants can have on many people, we offer a support service for patients via our dedicated Patient Services team. We can provide:
Financial help
We allocate grants of up to £250 to help cover some of the costs associated with treatment, including travel, clothes, and living expenses.
If you have a patient you think could benefit from one of our grants, you can refer them here.
Information
We provide comprehensive information relating to stem cell transplants, available in a variety of formats to suit your patients' learning styles:
Booklets
Online
App
Videos
Podcasts
You may also find these resources can help facilitate informed discussions between you and your patients. All are accredited by the Patient Information Forum (PiF) Tick quality mark, and have been highly commended by the British Medical Association (BMA) Patient Information Awards. Click here to order or download our publications.
Wellbeing support
We provide free emotional and back to work support in partnership with Working to Wellbeing, a team of specialists who have years of experience working with stem cell transplant patients:
Emotional Support
Transplant patients may have concerns about the future, questions about treatment pathways, or simply need a shoulder to lean on. Through a series of telephone appointments, they can connect with experienced nurses remotely, to talk about whatever's on their mind.
Please note, this service is also available for nurses working in stem cell transplant who may wish to talk about their professional challenges and/or the personal impacts of their work.

Back to work support
Recovering from a stem cell transplant takes time. Even when they've recovered from treatment, patients may find it hard to readjust to daily life – particularly the return to work or study.
Working to Wellbeing representatives can provide both emotional and practical help through a series of telephone appointments, so patients can benefit from a listening ear and some useful coping techniques.
Contact us to arrange appointments.
In addition to the above options, we also offer:
Our free My Transplant Tracker app, which has been designed to help patients manage their recovery from transplant.
Access to a Patients and Families Online forum, where patients can share their experiences, plus a peer support phone service.
Free events, including a number of Patient and Family Education Days held around the UK, and the chance to join our team at the British Transplant Games.
Lastly, mindful that the ongoing cost of living crisis will be affecting many people, we're exploring what other types of support would be most beneficial to the transplant community. We're therefore carrying out research to better understand the scale of the impact on stem transplant patients and their families.
If you are treating patients who are feeling the strain because of the cost of living crisis, please consider completing our quick survey to share your insight with our team campaigning on their behalf. Your input really could make all the difference.