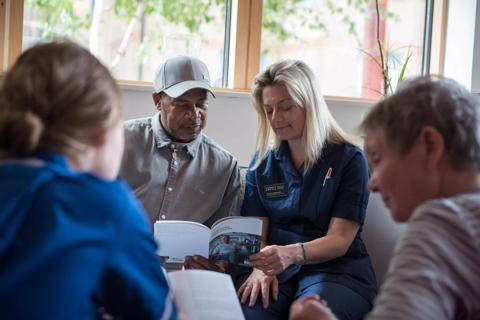 Financial help
We allocate grants of up to £250 to help cover the extra costs, including travel, clothes, and living expenses.
Cost of living crisis
Anthony Nolan is keen to better understand how stem transplant and CAR T-Cell patients and their families are being affected by the cost of living crisis, and what support is needed.
If you are supporting patients impacted by the cost of living crisis, please consider completing our quick survey to share your insight with our team campaigning on their behalf.
Information
We provide high quality health information in a variety of formats to suit your patients' learning styles:
Our resources can help guide your conversations with patients. All are accredited by the PiF Tick quality mark, and have been highly commended by the British Medical Association (BMA) Patient Information Awards.
Emotional & back to work support
We offer free emotional and back to work support run in partnership with Working to Wellbeing, a team of wellbeing specialists with years of experience working with stem cell transplant patients.
Telephone Emotional Support
Through a series of appointments, patients and nurses can talk remotely about whatever's on their mind. That could be concerns about the future, treatment pathways or anything else that may be troubling them.
This is also available for nurses working in stem cell transplant to talk about some of the challenges in practice.
Back to work support
Patients can discuss back to work or college barriers and find practical ways to address them through a series of telephone appointments.