Anthony Nolan can support your professional development, while you build and share your specialist skills and knowledge to help stem cell transplant patients.
Anthony Nolan saves and improves the lives of people with blood cancer and blood disorders. We match patients in need with stem cell donors and provide care and support at every stage of treatment. But to get patients well again after transplant, we need you.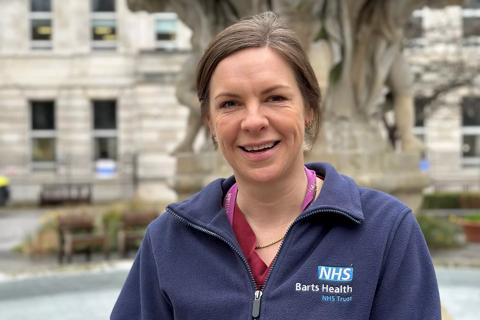 CLINICAL
Victoria Mace, Dietician
'To anyone thinking of joining the Anthony Nolan Adoption Programme, I'd say go for it. It's great to be supported by Anthony Nolan, as it makes me aware of the support available for patients, as well as opening the door for me to increase my knowledge of the specialty, and my counselling skills.'
Read more from Victoria
Together, we can provide the best possible care for patients.
Who can apply for the Anthony Nolan x NHS Adoption Programme?
We're looking to adopt a broad range of healthcare professionals from nurses and BMT coordinators, to occupational therapists and psychologists. This is an inclusive programme, so all bands, disciplines, and backgrounds are encouraged to apply.
You must be currently working with stem cell transplant patients.
What are the benefits of joining the Anthony Nolan x NHS Adoption programme?
Grants of up to £1,000 will be available for those on the adoption programme to:
attend national and international events on stem cell transplantation, such as EBMT, and BSBMT (including travel and accommodation fees)
support research projects, audits, and service developments
pursue professional development
We will actively encourage networking opportunities so you can create and maintain relationships with others working in your field, including:
taking part in an Anthony Nolan Induction
attending our Annual Meeting
creating special interest groups (e.g. psychology days)
Plus a whole host of new opportunities – from influencing in parliament to photoshoots and TikTok videos!
Which areas are you interested in?
We want to hear about what your passionate about. This year, we're particularly interested in projects exploring prehabilitation.
Recent examples of approved projects include:
discharge conversations
nutrition and milkshake rounds
group supervisions
If you have an interesting project outside of these areas, please do still apply.
While we will encourage research, we appreciate that this will depend on your role and availability. So supporting you to implement a service development may be another, more achievable, option.