Our Cord Blood Services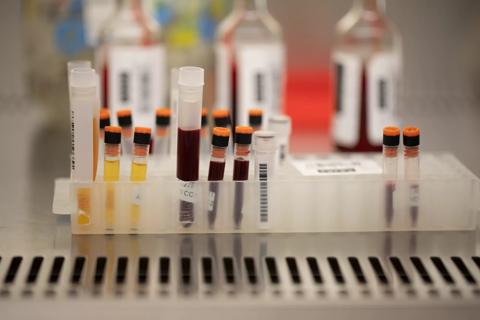 We take many careful steps to ensure every cord we bank meets the highest standards required for transplantation, and is safe and viable to optimise clinical transplant outcomes.
These steps include:
Processing and Cryopreservation
We use a special closed system to reduce the volume of cord blood by removing non-vital red blood cells and plasma. This provides a standard output volume that is suitable for storage and transfusion into patients.
We add a cryopreservative (DMSO) to protect the cells while they are frozen to the terminal temperature of -196°C, following a controlled rate protocol. The cords are then stored in vapour phase liquid nitrogen storage tanks.
All samples are cryopreserved within 36 hours of collection to safeguard their viability and potency. They then stay frozen until they are required for transplant, remaining safe and fit for purpose even after years of storage.
Testing
We carry out a number of vital tests to ensure our stored cord is viable. We pass this essential data on to transplant physicians so they can make the best decisions for their patients. Tests can include:
HLA typing: High-resolution typing on HLA A, B, C and DR is routinely carried out by Anthony Nolan Histocompatibility and Immunogenetics Lab services to enable optimal matching between stored donor cords and patients.
Total nucleated cell (TNC) and haematopoietic stem cell (CD34+) numbers: After HLA typing, these are the most critical factors to consider when assessing the suitability of a cord blood unit for a patient. When testing, we take into account the specific cell dose requirements of the transplant centre we're working with.
Blood grouping.
Microbiological contamination assessment: All products stored using an automated blood culture system – used to ensure the efficient processing of blood cultures – are thoroughly tested to enable the early detection of potential contaminants. Any compromised units are destroyed, and will not be listed on the register.
Infectious disease testing – We test for infectious disease markers, including but not limited to HIV-1 & 2, HTLV-I & II, HBV (antigen & core), HCV, Syphilis, CMV Toxoplasmosis and EBV.
Checks for haemoglobinopathies – Used to check for metabolic storage diseases or common anaemias, such as thalassaemia and sickle cell anaemia.
In addition to the above, we also routinely perform further assessments on all stored products to validate potency and overall and sub population viabilities.
Listing
All of our units are listed on the Anthony Nolan register and the Bone Marrow Donors worldwide register.
This means they can be searched globally through a peer-to-peer network of international stem cell registries.
Help and support
Please Contact Us:
if you require support with search and selection.
for comprehensive unit reports about any specific units of interest, containing all the information you need to make a decision.
to access our written recommendations that aim to help healthcare professionals navigate the complications and potential controversies sometimes linked to cord blood unit selection.