Search and Selection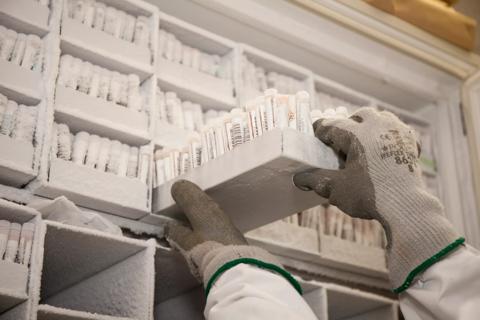 Anthony Nolan is the single point of contact in the UK for transplant centres searching for a matching donor or cord blood unit for their patient. We search both the UK and international registers for options for your patient. We facilitate donor collections and cord blood shipments within the UK and internationally, ensuring that your patient has access to the best available stem cell product.
Anthony Nolan is an active member of the global registry community and a founding member of the World Marrow Donor Association (WMDA). As part of the WMDA, we are in a network of over 100 organisations, operating in 55 countries, with access to 40 million adult donors and more than 800,000 CBUs.
We also recruit tens of thousands of committed new donors to the Anthony Nolan stem cell register every year. At present, the register contains 890,000+ potential donors, from diverse ethnic backgrounds across the UK and with a focus on younger donors.
Our Search and Selection services
If you work at a transplant centre or registry, you can send us a search request by filling in this form. We will then:
Search registers: We search the Anthony Nolan & NHS Stem Cell Register for matched donors and CBUs and return the results within 48 hours. We also search international registers for UK transplant centres using the WMDA Search and Match Service, returning results from listed registries within 72 hours.
Make contact: We contact the donor or the donor's registry to arrange samples for verification and diagnostics – including Verification Testing, Extended typing and Virology tests - once matches are identified.
Arrange the donation: Once the best match is found, our team manages all the logistics for the donation, including for the stem cells to be collected and delivered to the patient.
Organise couriers: We provide a reliable volunteer courier service to collect and deliver stem cells from donors anywhere in the world to patients here in the UK.
Monitor the welfare of our donors: We take donor welfare very seriously, caring for them throughout the whole process and conducting follow-up for 10 years post-donation.
Contact us
You can contact us here to discuss your requirements.