Transplant Services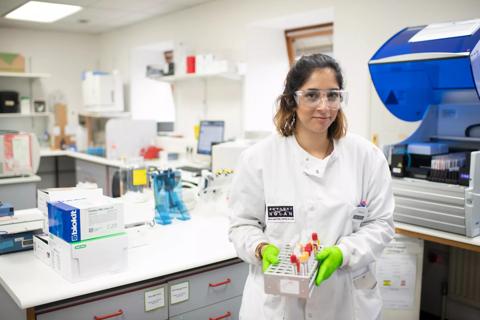 Anthony Nolan aims to help save the lives of people who need a stem cell (bone marrow) transplant. We hold a register of 890,000+ donors, a dedicated cord blood bank, and, as the world's first donor registry, have almost five decades of experience providing stem cells. We also have access to an international pool of over 40 million potential donors and 800,000+ cord blood units (CBUs).
If you need help with the search and recommendation of adult unrelated donors and/or CBUs, then Contact Us now. Otherwise, read on to find out more about our transplant services…
Our offering
At Anthony Nolan, we pride ourselves on providing an unrivalled service to the transplant community by:
maintaining a large pool of potential donors and a cord blood bank containing clinical grade CBUs via our own donor centre. We manage the whole donation process, including collection, donor liaison and follow-up.
operating as a patient registry, searching all available donor and cord blood units in the UK and around the world.
facilitating verification typing requests for both UK and international patients, so that transplant centres can select the best match for their patients.
processing workup requests and stem cell product delivery for both UK and international patients, accredited by the World Marrow Donor Association (WMDA) and licensed in the UK by the Human Tissue Authority (HTA).
If you need to find a donor or cord blood unit for your patient, Contact Us now and we'll aim to get back to you within one working day.
World-class and world-wide service
We are experienced in shipping and supplying stem cells and CBUs from both UK and International donors.
For UK donor provisions:
We support donors throughout the entire provision process, from request through to donation, and then for a further 10 years of follow-up.
We arrange a full medical assessment.
If peripheral blood stem cell (PBSC) donation has been selected, we arrange the administration of a four-day course of G-CSF injections to boost the donor's white cell count and help release stem cells into the bloodstream.
We organise travel and accommodation for the donor and a chosen companion.
We arrange for the collection of stem cells from the donor via PBSC, bone marrow or donor lymphocyte collection (DLC), depending on clinical need.
We arrange transportation of the donated product to the requesting transplant centre.
For international donor provisions:
We liaise with international registries or donor centres on behalf of UK transplant centres, to collect the requested product from international donors for UK recipients.
We relay information quickly, taking into consideration different time zones, language barriers and varying practices amongst registries, e.g., collection procedures and infectious disease marker (IDM) testing.
We arrange the safe and timely transportation of the donated product to the requesting transplant centre.
For cord provisions:
We arrange cord shipments from Anthony Nolan and from international cord blood banks.
For Anthony Nolan CBUs there is no charge to reserve a unit; quality control (QC) testing starts immediately on receipt of reservation; and we do not charge for cancellations unless shipment has already begun.
On receipt of a shipment request for any international CBU, we immediately liaise with the relevant cord bank to ensure that all mandatory IDM testing is completed prior to shipment, and to acquire all of the QC testing results that the requesting transplant centre requires.
Our dedicated Cord Blood Support Programme provides expert guidance in the selection and management of CBUs.
Interested in hearing more? Contact Us now and we'll aim to get back to you within one working day.
Volunteer courier service
Our fully-trained and dedicated volunteer couriers are available to collect stem cells from around the world so they can be delivered to patients in the UK.
Each courier is equipped with the latest temperature-regulating transportation boxes, specially designed for couriering blood products safely for up to 72 hours. All volunteers are managed and supported by our Volunteer & Logistics team. They are trained extensively in quality procedures and in dealing with any travel variations that may arise en route.
Couriers assigned to your product transportation will remain in contact throughout their journey, making sure you are updated in real-time.
We can also support with the transport of related donor collections and products collected and cryopreserved outside of the UK.
Looking for logistical support? Contact Us to find out more.