Clinical research
Group leader
Dr Robert Danby
What is clinical research?
Every aspect of treatment given to our patients during their transplant journey has previously been shown to be safe and effective by first testing it in a clinical setting.
Clinical research also gives us a better understanding of current treatments and services. This can be anything from analysing the effectiveness of a physiotherapy regime to deciding the most effective ways of offering emotional support. Based on feedback from patients and healthcare professionals, we can determine what is working well and where improvements can be made.
What do our researchers look at?
Although ensuring every patient survives their stem cell transplant is our main priority, we also want to make sure they make a full and fast recovery. This is why our clinical research considers many factors when evaluating the effectiveness of a new treatment or service, including our patient's quality of life and the resources needed to provide them.
Our clinical research is split into two main areas:
Anthony Nolan clinical studies: Our own team of clinical researchers, lead by Dr Robert Danby, conduct a variety of studies that provide insight into the needs of the UK's transplant centers. This allows us to adapt our services so that they can be more effective.
The IMPACT Clinical Trials Partnership: In addition to our own clinical research, we are funding the UK's first ever clinical trials partnership dedicated to improving the outcomes of stem cell transplant patients alongside Leukaemia UK and NHSBT.
IMPACT provides funding for research nurses in 11 centres, and works with a further 11 affiliated centres which also participate in these trials. The data is then collected and analysed by the central hub, located at the Cancer Research UK Clinical Trials Unit (CRCTU) at the University of Birmingham. Clinical trials are an essential part of improving our understanding of stem cell transplants and making them more successful.
What impact will this have for stem cell transplant patients?
Larger clinical studies can deliver more reliable results because they involve more patients, however this can be challenging for treatments like stem cell transplants because they are only given to a few thousand patients every year. Through our investment of the IMPACT partnership we are making sure that more effective treatments can be developed quickly by setting up trials that involve more patients. This unique partnership allows knowledge and expertise to be shared easily amongst the transplant community, for the benefit of all patients.
Team members
Dr Robert Danby – Medical Director
Dr Rosalina Naidoo – Medical Officer
Dr Angharad Pryce – Medical Officer
Current research projects
Psychological care of stem cell transplant recipients in the UK
+
-
By determining how psychological care is provided within UK's transplant centres, we can begin to understand which approaches are the most effective. With the help of specialist clinical psychologists, we want to establish a model of best practice that meets the recommendations of current national and international guidelines and address where patient needs are currently not being met.
We also want to improve our understanding of the psychological issues that can arise when an adult donor is donating their stem cells for a close relative such as a parent or adult child. This will help determine the type of services that need to be put in place to support these individuals during what can be a very difficult time.
Developing strategies to make donor lymphocyte infusions (DLI) more effective
+
-
Donor lymphocyte infusions (DLIs) are often given to boost the patient's developing immune system during early recovery. These extra white blood cells from the initial donor help remove any remaining abnormal or cancerous cells, which is often referred to as the graft-vs-leukaemia (GvL) effect. They are given to both prevent and treat relapse, but can also lead to the development of GvHD. They are also more effective for some types of blood cancer compared to others.
Factors such as how many cells to use, when to give the DLI and other medications the patient is taking can influence the effectiveness of DLIs. However, there is currently no standard practice for administering DLIs, so assessing their effectiveness can be challenging.
This study aims to measure how diverse DLI protocols are between transplant centres and understand the current levels of demand for donor cells from our registry needed to perform DLIs. It will also focus on how the cellular content of each DLI, as well as how they are collected and stored, can influence transplant outcomes. By combining all of these factors we hope to identify ways in which we can make DLI's more effective for our patients.
Freezing (cryopreservation) of donated stem cells during the COVID-19 pandemic
+
-
Under normal circumstances, donated adult stem cells are collected and infused fresh, to maximise the number of viable cells for the transplant. Occasionally, if delays or other problems are envisaged, cells may need to be frozen (cryopreserved) after collection and thawed upon delivery. This can lead to a 10-20% loss in viable cells, but limited studies have shown it to have no significant effect on transplant outcomes, other than a delay in the recovery of platelet numbers.
The global COVID-19 pandemic and subsequent national and international restrictions have made it increasingly challenging to ensure the fresh delivery of donated adult stem cells. The potential for transplants being delayed or even cancelled has increased due to issues of donor health, donor risk and willingness to donate, reduced collection centre staffing and capacity, and transportation delays and restrictions. During this time various organisations, including Anthony Nolan, strongly recommended collection, delivery and cryopreservation of the cells to ensure they were safely on site before starting the patient's conditioning therapy.
The aim of this study is to assess the impact of cryopreservation on transplant outcomes, as it will help us define future provision of material and may lessen the burden on delivery logistics.
Anthony Nolan's clinical studies
IMPACT Clinical trials network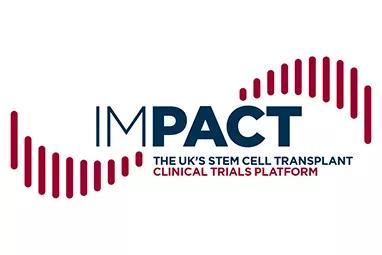 IMPACT currently supports six clinical trials that are aiming to improve various treatments given to stem cell transplant patients – from finding the most suitable type of conditioning therapy to preventing GvHD and relapse during recovery.
More detailed information on each trial is available in our patients and family's section.
If you are clinician or researcher, you can also read more about IMPACT on the dedicated website.
ALL-RIC
+
-
Conditioning therapy is given before a stem cell transplant to prepare the patient's body for the process. It normally consists of chemotherapy and sometimes radiotherapy as well. It's an essential part of the transplant process but often causes a range of side effects including fatigue, sickness and hair loss.
The clinicians at IMPACT are now keen to see if different combinations of drugs and treatments used for conditioning therapy can affect transplant success rates for patients with acute lymphoblastic leukaemia (ALL).
COSI
+
-
The COSI trial is aiming to determine the effectiveness of pre-transplant treatments and conditioning therapies for patients with acute myeloid leukaemia (AML) or high-risk myelodysplastic syndrome (MDS). Its design allows multiple treatment combinations to be tested at the same time in patients with different medical needs.
A variety of clinical factors including overall patient survival, the rate of relapse and incidence of GvHD will all be considered to determine which combination of treatments will be most effective.
AMADEUS
+
-
Early evidence suggests that the chemotherapy drug Azacitidine could reduce the risk of relapse post-transplant for patients with acute myeloid leukaemia (AML) or myelodysplastic syndromes (MDS). The AMADEUS trial is now testing being tested on a large scale to see if the effect of the drug is good enough to benefit all patients with AML or MDS.
Patients on the trial will receive either Azacitidine or a placebo, alongside all other standard medications to see if it can reduce the number of patients who relapse withing 12 months.
COVID-19 and stem cell transplants
+
-
We know that patients with blood cancer or those who have had a stem cell transplant are at a greater risk of developing severe complications from COVID-19 because they have compromised immune systems. To improve our understanding of how patients respond to COVID-19, a new trial was rapidly approved and set-up through the IMPACT network in just eight weeks.
This observational study is analysing blood samples for various markers including white blood cell numbers to see how the immune systems of these patients react to coronavirus. This will hopefully enable clinicians to identify better ways to monitor and treat transplant patients with COVID-19.
MoTD
+
-
GvHD is a very common side effect that causes great discomfort for our patients, but it is also one of the largest contributors of post-transplant care costs for the NHS. This means that developing treatment that can successfully prevent GvHD developing are a high priority.
This study will test two new treatment combinations and compare them to the current standard treatment to see if they can reduce the rates of GVHD after transplant. Additional clinical factors, such as infection rates, hospital admissions and the need for donor lymphocyte infusions (DLIs), will also be considered to measure the quality of life of the patients who take part.