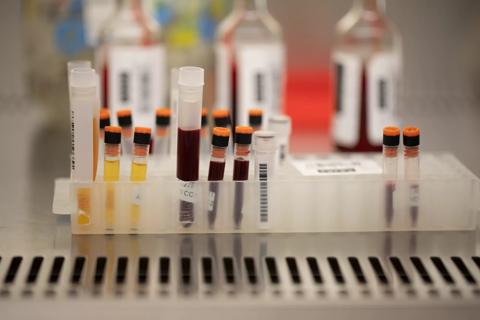 The Anthony Nolan Cord Blood bank, which is housed within the Anthony Nolan Cell Therapy Centre, was established to complement the adult register and help meet the unmet need in transplant. To date, the facility has banked nearly 10,000 high-quality cord blood units that are searchable for patients in need. The team facilitate the shipment of these lifesaving cells to patients globally.
We continue to grow the inventory with an emphasis on enriching and diversifying the units stored. This means it is better equipped to ensure every patient can access a transplant who needs it.
Below describes some of the processes undertaken to ensure every cord we bank meets the highest standards required for transplantation.
Processing and Cryopreservation
The Anthony Nolan Cord Blood Bank uses methods that ensure the cord products are safe and viable to optimise clinical transplant outcomes. The process utilises a closed system to reduce the volume of cord blood by removing non-vital red blood cells and plasma. This provides a standard output volume suitable for storage and transfusion into the patient.
A cryopreservative (DMSO) is added to protect the cells whilst they are frozen. The samples are then frozen following a controlled rate protocol to the terminal temperature of -196°C and stored in vapour phase liquid nitrogen storage tanks. All samples are cryopreserved within 36 hours of collection to preserve the viability and potency of the cells, ensuring they are fit for purpose, safe and efficient.
Units will remain at this temperature until they are required for a patient. Research has demonstrated cord blood units remain viable and potent at these temperatures with no loss of impact. Cord blood units which have been stored for until 25 years have successfully been used in transplant.
Testing
The Anthony Nolan Cord Blood Banks carries out vital tests to ensure the stored cord is fit for purpose and ensures the transplant physician has all the available information to hand so they can make the best decision for their patients.
After HLA matching, total nucleated cell (TNC) and haematopoietic stem cell (CD34+) numbers are the most critical factors required when assessing the suitability of a cord blood unit for a patient. As a general consensus, many centres advise for a single unit cord blood transplant, a minimum cell dose of TNC ≥2.5 × 107/kg and CD34+ cells ≥1.5 × 105/kg is required. For a double unit cord blood transplant, the cell dose requirements are a TNC 1.5 × 107/kg for each unit and CD34+ cells ≥1.0 × 105/kg for each unit, although in both scenarios some centres recommend a higher CD34+ dose.*
In addition to these, we routinely perform additional assessments on all stored products to validate the overall viability, sub population viability and potency, which is tested through a colony forming assay.
HLA typing is performed by the Anthony Nolan H&I services. High-resolution typing on HLA A, B, C and DR is routinely carried out to enable optimal matching between stored donor cords and patients. The Anthony Nolan H&I services will also carry out the blood grouping required for donor patient matching.
Microbiological contamination assessment is performed on all products stored using an automated blood culture system within the facility. This enables the early detection of potential contaminants. In the event a stored unit is identified as contaminated, the unit is destroyed prior to listing on the register.
Haemoglobinopathies are performed on the blood samples to assess for metabolic storage diseases or common anaemias (Thalassaemia, sickle cell anaemia).
Donor mother and stored cord samples are tested for infectious disease markers, including but not limited to HIV-1 & 2, HTLV-I & II, HBV (antigen & core), HCV, Syphilis, CMV Toxoplasmosis and EBV.
*Jason Dehn, Stephen Spellman, Carolyn K. Hurley, Bronwen E. Shaw, Juliet N. Barker, Linda J. Burns, Dennis L. Confer, Mary Eapen, Marcelo Fernandez-Vina, Robert Hartzman, Martin Maiers, Susana R. Marino, Carlheinz Mueller, Miguel-Angel Perales, Raja Rajalingam, Joseph Pidala; Selection of unrelated donors and cord blood units for hematopoietic cell transplantation: guidelines from the NMDP/CIBMTR. Blood 2019; 134
Listing
All units are registered on the Anthony Nolan register and the Bone Marrow Donors worldwide register. This means they can be searched globally through a peer-to-peer network of international stem cell registries. Cord blood unit selection is considered a complicated and often controversial subject. To help with this, Anthony Nolan has put some basic recommendations together for healthcare professionals.
When requested, we produce a comprehensive unit report containing all the information required for making a decision on the unit of interest. If you require any further information or support with regards to search and selection, please contact us via our Cord Support Service.
Contact us
If you're a healthcare professional looking for umbilical cord blood for allogeneic stem cell transplantation, please contact our Operations department on 0303 303 0303 or operations@anthonynolan.org.