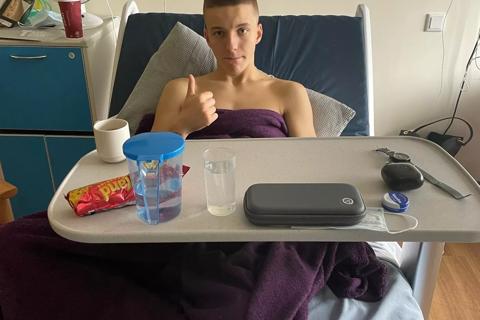 Seventeen-year-old naval chef Charlie Dugdale is urging people with South Asian heritage to join the Anthony Nolan stem cell register after receiving an aplastic anaemia diagnosis just a few weeks ago.
Charlie, who lives in Liskeard, Cornwall, was enjoying his training in the Royal Navy. The youngest recruit at HMS Raleigh at the time he joined, Charlie had just qualified to become a chef until he began experiencing fatigue, forgetfulness, and low mood. What was initially labelled as puberty was identified as aplastic anaemia 24 hours after he was taken to hospital. Charlie had four blood transfusions, a platelet transfusion, and a bone marrow biopsy. He is now on his seventh blood transfusion and has been advised by doctors that he will need a stem cell transplant to give him a second chance at life.
Aplastic anaemia is a blood disorder which stops bone marrow from producing enough blood cells, including red blood cells that carry oxygen to the rest of your body. A normal blood count for a fit male like Charlie should have been at least 120, but Charlie's was only 45 on admission to hospital. Doctors say a stem cell transplant, where healthy stem cells are given to a patient via their bloodstream, where they begin to grow and create healthy blood cells and platelets is Charlie's best chance of a cure.
Charlie's family have teamed up with the blood cancer charity Anthony Nolan for the campaign Charlie Is Built Different to encourage people from all backgrounds to sign up to the stem cell donor register.
Charlie's maternal grandfather is Indian, making the search for his genetic match more difficult. Patients who are from white northern European backgrounds have a 72% chance of finding the best match from an unrelated donor, but this drops to just a 37% chance for patients from minority ethnic backgrounds. Charlie also has a rare blood type, A negative, adding another complexity to his search. Anthony Nolan is particularly appealing to people from South Asian heritage, as well as young men, to help diversify the stem cell register.
Charlie's mother and former nurse, Danielle Dugdale, said: "This has turned our world upside down. Charlie has always been so active, so seeing him in hospital has been hard. Many people don't know which symptoms to look out for with aplastic anaemia – they can include things like unexplained tiredness. I want to encourage people to trust their instincts and speak to your GP if you notice anything unusual. Whether or not you have South Asian heritage, please do consider becoming a stem cell donor to help people like Charlie."
Henny Braund MBE, Chief Executive of Anthony Nolan, says: "Finding Charlie a donor would mean everything to him and his family. We are committed to supporting Charlie and his family as they wait for news of the donor who could save his life.
"Not only does Charlie have a rare blood type, but his Asian heritage means that, unfairly, he is unable to start the treatment he needs. If you're aged 16-30, in good health and from a South Asian background, you could give hope to someone like Charlie by joining the Anthony Nolan register today."
Anyone looking to join the stem cell register must simply complete a short form online. They'll receive a swab pack in the post which should be returned to Anthony Nolan. Once swabs are Anthony Nolan's lab, donors will get an email and donor card in the post. Anthony Nolan is currently encouraging young men to sign up as this group provides more than half of all stem cell donations but makes up for only 18% of the register.
To find about more about joining the Anthony Nolan register, or to find out more about the different ways you can support, please visit anthonynolan.org/builtdifferent. You can keep up to date with Charlie on his Facebook page.