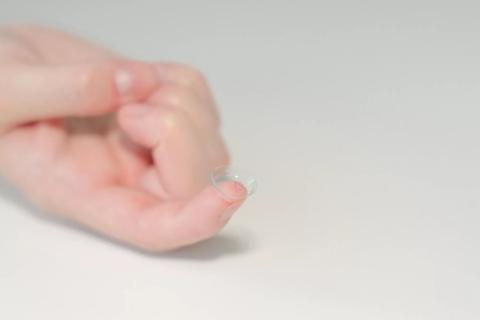 Anthony Nolan is best known for its work matching patients with blood cancer and blood disorders, in need of a lifesaving stem cell transplant, with people willing to donate their stem cells. However, thanks to a unique partnership with a UK biotech company, we're also helping to prevent sight loss in a surprising way – via mothers donating their amnion after birth. Learn more in this blog post about how this collaboration began, and how Anthony Nolan is making a difference beyond blood cancer.
If the surface of the eye needs significant repair – after trauma or surgery, for example – the epithelial cells that make up the eye surface must grow back in the right way. If this process does not take place properly, it can lead to scarring, continuing chronic eye conditions, and even loss of sight.
To help the eye surface regrow, ophthalmologists have sometimes used patches derived from an unusual source: the amniotic membrane, which surrounds the foetus during pregnancy.
The amniotic membrane (also known as the amnion) has several advantages for this purpose. It prevents the growth of blood vessels, and it has anti-inflammatory, anti-scarring, and anti-microbial properties, all of which helps to preserve sight while the surface of the eye repairs itself. As a result, the amnion has been used in a variety of applications since the early 1900s, including healing eye wounds, reconstruction of the eye after surgery, and ameliorating chronic eye conditions.  
NuVision
NuVision Biotherapies, a biotech company based in Nottingham, have pioneered the production of amnion patches for use in ophthalmology. Formed in 2015, their technology is based upon research led by Dr Andrew Hopkinson and Prof Harminder Dua, who developed a new method of preserving the amnion which prevents damage to its delicate structure and retains more of its natural healing properties. This has resulted in the company's Omnigen product, flexible amnion patches supplied in a range of sizes that can be stored for long periods at room-temperature.
One persistent challenge for the company has been the sourcing of amniotic membranes to make these patches. Placental membranes like the amnion are donated by women giving birth via caesarean section, and originally, NuVision were collecting amnions directly from donors at a hospital in Nottingham. However, they had a challenge in scaling their donor work to meet the growing demand for their products.
A unique collaboration
Around the same time in Nottingham, Anthony Nolan was collecting cord blood donated by mothers, for use in blood stem cell transplants, cell therapies and research into lifesaving treatments. As the amnion remains attached to the placenta after birth, NuVision approached Anthony Nolan to see if the charity could also help with collecting amnion for their products. The company recognised that the Anthony Nolan name is well-regarded among the public and expert in donor engagement, education, welfare, consent and collection - and when it comes to consenting donations from expectant mothers, trust is everything.
And so, a unique partnership between NuVision and Anthony Nolan's Cell and Gene Therapy Services began.
Anthony Nolan began collecting amnion on behalf of NuVision in January 2021. Now collecting from hospitals in Leicester, Anthony Nolan nurses approach women due to undergo a caesarean section to ask if they would donate both cord blood and amnion.
For NuVision, Anthony Nolan is more than just a supplier; from the beginning the two organisations have regarded their work together as a collaboration. For example, NuVision have helped to train the dedicated collection team from Anthony Nolan in the process of collecting amniotic membranes, and Anthony Nolan has advised NuVision on best practices and procedures for gaining consent from people for tissue donations.
Making a difference beyond blood cancer
Today, Anthony Nolan staff are collecting around two amnions every week in Leicester. These are then shipped to NuVision's labs in Nottingham, where each membrane could be used to make around 80 of their most commonly used patches.
NuVision have distributed more than 9,000 treatments to date, helping to heal eye wounds, improve chronic eye conditions, and restore vision. And with their plans for growth, NuVision hopes that Anthony Nolan will continue to supply amniotic membranes to help even more people in the future.
Anthony Nolan is best known for its stem cell donor register, patient support and stem cell transplant work. But our partnership with NuVision is just one example of how, through our Cell & Gene Therapy services, the charity is making a difference to health beyond blood cancer and blood disorders.
If you're a scientist looking to source adult blood or umbilical cord blood cells and tissues for your work, find out more about some of the ways Anthony Nolan could help you.