The family of a 14-year-old – known for her sporting prowess in the water, on the snow and on the football pitch – have launched an international appeal to inspire more people to sign up as potential stem cell donors with charity Anthony Nolan after she was diagnosed with blood cancer.
Maggie Banyard's parents emigrated to Australia from London, UK in 1997. A kind and compassionate student, Maggie was diagnosed with a rare subtype of acute myeloid leukaemia after experiencing headaches a few weeks ago.
Her family have been told that she will need a stem cell transplant - a treatment where new, healthy stem cells will be given to Maggie via her bloodstream if she is to be cured. Maggie's brother was tested but, unfortunately, was not a match. The family is now waiting for news of an unrelated donor, somewhere in the world, as she receives treatment in hospital.
While Maggie's family look after her at Sydney Children's Hospital, with limited days at home, her family in the UK are spearheading a movement to inspire people to sign up to the stem cell donor register.
Led by Maggie's aunt Justine Kershaw and cousin Eloise Spowers, the campaign, Match4Maggie, is encouraging people across the UK to join the Anthony Nolan stem cell register. Anyone aged 16-30 and in good general health can sign up online or attend a number of events 'Maggie's Army' are organising at schools and universities.
Maggie's mum, Chantal Kershaw, says: 'When we were first given the diagnosis of leukaemia it was like a rug had been pulled out from under our feet. It just didn't make any sense; her symptoms up until that point were so mild and non-descript, we had just assumed they were a regular childhood virus.
'When we were informed that, due to her diagnosis of AML FLT 3 ITD, she would not respond to chemotherapy and that a stem cell transplant was our only option, it felt like another punch in the gut. The hits just kept on coming, especially when at the same time we were informed that her older brother was not a match. It was like living in some alternative reality and life had been turned on its head.
'Maggie is an incredible child. She takes everything in her stride. She is resilient, brave and has a cracking sense of humour. She has already shown us she is more than capable of fighting this.We help her by reinforcing what we already know about her. Give her extra strength when she needs it, space when she needs it, humour when she needs it and obviously practical care when she is too sick to do it herself.'
Henny Braund MBE, Chief Executive of Anthony Nolan says: 'My heart goes out to Maggie and her family as they wait for news of a stem cell donor to give her a second chance at life. Like many, I've been moved by Maggie's story and am incredibly thankful to her, and her family, for shining the spotlight on stem cell donation during such a difficult time.
'Too many families are given the devastating news that there is no matching donor on the stem cell register, which is why Anthony Nolan's work encouraging more people to sign up to potentially save a life is as important as ever. Everybody who signs up to the Anthony Nolan register has the potential to give hope to someone like Maggie, who is in desperate need of a lifesaving stem cell transplant. We're particularly calling on young men aged 16–30 to consider joining as they account for more than 50% of people in the UK asked to donate but make up just 18% of our register.'
Chantal adds: 'Our lives feel frozen in time. I see others go about their daily lives outside the hospital or on social media. Our lives stopped and went on this strange pause on Oct 21st. We are praying for the day that we can press "play" again.'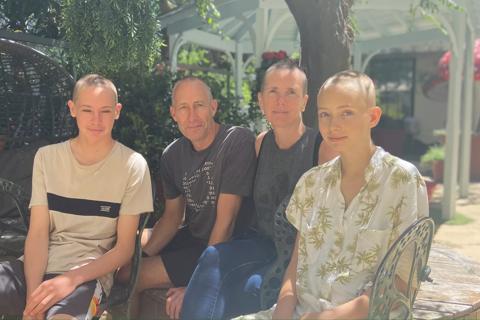 To find about more about joining the Anthony Nolan register, or to find out more about the different ways you can support, please visit www.anthonynolan.org/match4maggie