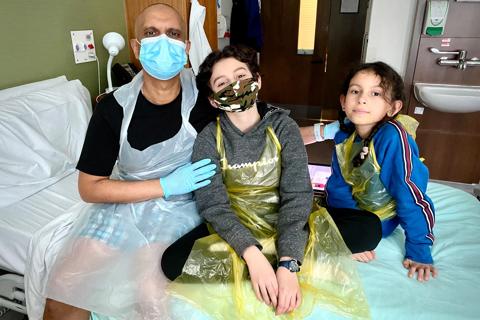 A dad from North London with a blood cancer, who was diagnosed at the start of the Covid-19 pandemic, is making an urgent appeal for more people to join Anthony Nolan's stem cell register to help save his life, and others like him, who desperately need a transplant in order to survive.
Hedley Dindoyal. 50, from North London, is a photographer and father of two. His diagnosis of Non-Hodgkin's Lymphoma came with the news that his only chance of a cure lies in the hands of a stranger. However, his Mauritian heritage makes his search for a potentially lifesaving matching stem cell donor even more difficult.
In May 2020, when Hedley didn't even have the energy to walk up the stairs, he knew he needed to visit his GP. After some blood tests, he was immediately sent to hospital.
Hedley received a blood transfusion and quickly became dependent on them to survive, which was when he started to suspect that it might be something serious. Further tests revealed the diagnosis he'd feared, Non-Hodgkin's Lymphoma.
Speaking about his diagnosis, Hedley said: 'It was devastating but after feeling ill for so long suddenly I had something that I thought was treatable, that I could at least do something about.'
However, Hedley's road to recovery didn't go as planned and on Christmas Eve last year he developed neutropenic sepsis and became seriously ill.
Hedley's wife, Lucy explained: 'I called an ambulance but after three hours we were still waiting, so I took him to the hospital myself. We knew the wait was because of Covid, it was awful. They sent him home that night, but he was so ill he went back to hospital on Boxing Day.
'That's when he found out that his treatment hadn't worked, the cancer had returned and he had to remain in hospital, in isolation, for seven weeks. I wasn't allowed to see him due to Covid, it was so hard.'
The impact of Covid-19 made an already difficult time even tougher for Hedley, Lucy and their two young children aged nine and 12.
Hedley said: 'It's been really hard being in hospital and not being with my children. I would Face Time them in the evening so I could be with them when they went to sleep. It was also really difficult not having Lucy with me at appointments. When I was told about treatment not working or other options, the news would be so heavy, I just couldn't digest it. I needed someone else with me.'
When Hedley didn't respond to further chemotherapy, palliative care was discussed, which he and Lucy found tough to speak to their children about.
Hedley explained: 'Lucy and I made the decision to be honest with the children. We told them what palliative care is and we have had conversations about death, they take in as much they can. Because of Covid, they have had to be really careful and they can't always socialise with their friends, which is awful for them but it's too much of a risk.'
'It's like living in a reoccurring nightmare, not knowing what's going to happen next,' Lucy added.
Luckily, Hedley qualified for a new treatment, but he will now need a stem cell transplant from a stranger if he is to have a chance to live in remission.
A person's stem cell match is likely to come from someone with the same ethnic background as them. Only 37% of transplant recipients from minority ethnic backgrounds receive the best stem cell donor match from an unrelated donor. This is compared to 72% of patients from white Caucasian backgrounds.
Hedley explained: 'I am a British-born Mauritian man looking for a donor knowing there is less likely to be a match for me, which is quite disheartening to say the least. It's so bittersweet, knowing I have the chance of going into remission, but being in a minority group makes it so difficult and, being Mauritian puts me in an even smaller minority group, so we desperately need people from Mauritian backgrounds, and other ethnic minority backgrounds, to sign up.'
Anthony Nolan particularly needs more young men to sign up as they are underrepresented on the register. Young men currently account for only 18% of the charity's register, but they make up an astonishing 55% of all people asked to donate.
Henny Braund MBE, Chief Executive at Anthony Nolan, said: 'Hedley being open about his experiences as he starts his search for a matching stem cell donor will inspire many people to sign up to the register. Every person who joins the Anthony Nolan register has the potential to give people, like Hedley, a second chance of life.
'We'll continue to support Hedley, and his family, during this difficult time and echo his call for people from ethnic minority backgrounds to sign up. Currently, only 37% of people from ethnic minority backgrounds receive the best stem cell donor match. No parent should have to talk to their young children about palliative care, which is why we need to do all we can to build the Anthony Nolan register. Together, we can work towards a future where nobody is left waiting for their match.'
To find about more about joining the Anthony Nolan register, or to find out more about the different ways you can support, please visit www.anthonynolan.org/help4hedley