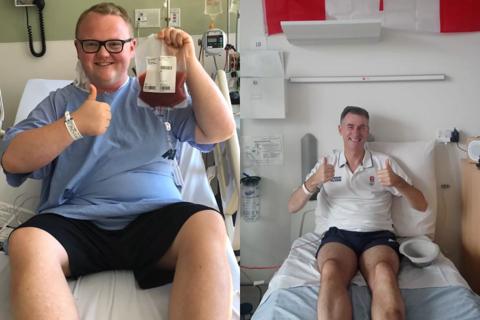 Earlier this year, Richard was given the name of the person who saved his life - a young Canadian man called Jordan. A few months later they were 'meeting' for an emotional videocall. It was a moment they had both hoped for, ever since they were anonymously matched to each other. Donating his stem cells was lifechanging for Jordan too and it has inspired him to follow a new path in life. They are sharing their amazing story to hopefully inspire others.
2011
Jordan
I was raised by an amazing family that always taught me to love one another and to pay it forward. When I turned 18, I started regularly donating blood, but my heart and soul was telling me to give more. One day, whilst I was giving blood, I asked one of the nurses how I could go about donating bone marrow. She handed me a pamphlet for Canada's version of Anthony Nolan. I immediately went home, logged onto the computer and sent them my information. After sending back a few swabs, I was officially on the list of donors.
2013
Richard
I'd had what seemed like an allergic reaction and after blood tests at my GP, I was referred to specialists at Manchester Royal Infirmary. The word 'leukaemia' had come up before, but actually getting the diagnosis was a huge shock. Until that point you hope it's a mistake, or something else. My wife, Helen, and I were in pieces but we were reassured that I was in
good hands. My consultant and the whole haematology team were incredible. After six months of chemotherapy, I was in remission! I returned to work but I still had regular check-ups to keep an eye on things.
2018
February – Richard
Sadly, a few years later, I was diagnosed with myelodysplasia - a different form of blood cancer. I was told I would eventually die from the condition as I also had two abnormal cell mutations. It could be a few weeks or a few years, but it would happen eventually. My only hope was a stem cell transplant - if they could find a donor. It felt so horrible. It was all happening again, only this time it was much worse. It really hit us hard. All we could do was wait and hope for a donor.
April - Jordan
I was on vacation in Mexico when I got a call from Canadian Blood Services. They asked me if I was still interested in donating because I was a potential match with someone. I couldn't have said yes, any faster than I did! Little did I know that this journey of donating bone marrow would change my life, and the life of Richard forever. I had further tests to see if I was definitely a match. Deep down within my heart, I knew that I was. A week later, I got a call telling me that I was a 100% match!
June - Richard
When we received a call from the hospital to say they had found a 10/10 match we were thrilled! At this point, all we knew was that they were from Canada.
July – Jordan
After eight hours hooked up to the machine, my donation was finished. Even though my physical body was completely spent, I felt so grateful and blessed because I knew that the stem cells from my body were on their way to save the life of someone I didn't even know. Although I had been told many times that there was a good chance that this person wasn't going to make it and that I wouldn't meet them, somehow I knew that they were going to make it, I knew that I was going to meet them. Sometimes in life you have to listen to your heart, and I was listening to my heart.
July - Richard
I had the stem cell transplant on 18 July and found out the donor was a 25-year-old male from Vancouver, Canada. In the back of my mind, I was thinking, 'I can't wait to meet my donor and thank him'.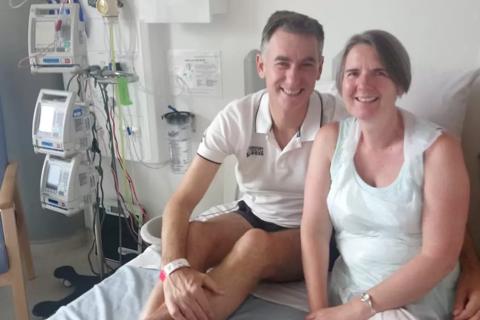 2019
Richard
The transplant was gruelling but the support of family and friends, especially my wife Helen, got me through it. On 8 August 2019 I was told I was cancer free! Truly amazing. Even though there have been a couple of 'bumps on the road' we never gave up hope.
2021
March - Jordan
Three years later and a day hadn't gone by that I didn't think about my recipient. I woke up one morning to an email from Canadian blood services saying that my recipient wanted to know who I was. I don't think I have ever responded to an email so quickly in my whole life.
A week later, I got an email from a man named Richard Potter.
July – Richard
It was a very emotional and special moment when we finally 'met' Jordan, my lifesaver, on Zoom. We were finally able to say, 'Thank you for saving my life!!'
Now
Jordan
My donation changed me as a human being. Right now, I am currently studying to be a registered nurse here in Canada, because of my experience. During my donation process, I was very lost. I had no idea what my future had, or if I was even going to have a future, what I was going to do for the rest of my life, what kind of person I wanted to be, what kind of career I wanted, I was at a crossroads. My donation saved my life, as well as Richard's.
Richard is the bravest soul I have ever been blessed to come across with. We now have an amazing relationship and in getting to know him, I realised that donating bone marrow was not only was a gift for him, but it was a gift for his beautiful family. Time is such a precious, very beautiful gift. For those of us who are healthy, we have the power within ourselves to give time to someone who may not have a tomorrow.
Ever since the day of my donation, many people have been coming up to me and telling me that I'm a hero. However, I don't necessarily look at myself as a hero. I was just a regular person, who wanted to do something kind. If you're reading this, and you were feeling hesitant about becoming a donor, here's my advice to you. Just do it. I can't even begin to tell you what an amazing feeling it is.
I want to personally thank the amazing people working for these services who work tirelessly to give strangers another chance at life. I want to thank them for giving Richard more time on this earth. And I want to thank them for giving Richard and I the opportunity to have the amazing relationship we do. For as long as I live, I will never forget these experiences.
Richard
Jordan is such a special person who has done something incredible, unselfishly, for someone else. He has allowed me to spend more time with Helen, family, friends and most importantly, our first grandchild, Mila. We will be keeping in touch and I can't wait to meet him in person, once coronavirus allows! Thank you to Anthony Nolan for finding him for me and to everyone else involved in making this 'medical miracle' happen.