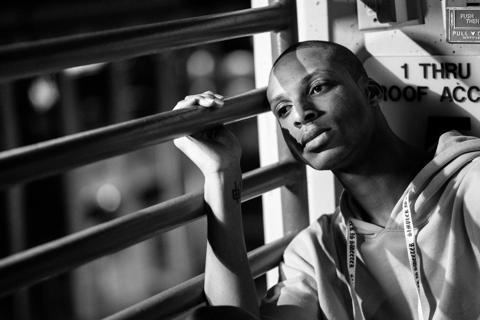 10 months ago, Lucy was told she had mantle cell lymphoma, a rare type of non-Hodgkin lymphoma.
She was told it could be treated by an autologous stem cell transplant (known as an 'auto') where her own stem cells would be collected before intensive chemotherapy, then transplanted back to her.
Lucy, 47, explains the impact her diagnosis and treatment has had, and what has helped her recovery.
Hi Lucy. How did you discover you had mantle cell lymphoma?
Last year I had an operation to remove a lump in my bowel. It went well but nine days later I had a call from one of the medical team – she told me I had lymphoma.
I was floored. My entire world stopped. All I could see was flashing lights in my head spelling out 'LYMPHOMA'.
How did you feel when you were told about your treatment plan?
I was initially relieved to hear I could have a stem cell transplant – mainly because it offered life. I spent six weeks feeling like I was living outside my body – experiencing anxiety attacks for the first time, not knowing whether I was going to live or die.
I was warned my treatment plan was going to be physically tough. I was fearful about having chemo but committed. I cannot understate the huge impact the day ward nurses had on keeping me calm and focused – they listened, soothed, encouraged and genuinely cared.
How did your emotions play out as you went through chemo and the build-up to transplant?
Chemo wears you down, especially during a dark winter of us all being locked in because of COVID-19. Physical effects are predictable, emotional effects are not.
Mine were exacerbated by a complete breakdown in my family support network, so I was alone.
Except, I wasn't. A truly magical thing happened within my small and trusted network of friends. My closest friends stepped up and literally became my family, always holding a space for me to vent or share my emotions and experiences. Always ready with kind words and encouragement.
How did interactions with friends and family affect your emotional wellbeing?
My friends undoubtedly pulled me through my darkest hours. It made up for a family situation that, sadly, made my darkest hours even darker.
I was very scared and isolated. I found myself constantly checking the weather because I was worried about being physically capable of de-icing my car then driving miles to get to appointments, as well as bracing myself to face bad news on my own.
But hardly a day passed without one of my amazing friends checking in, just to see how I was doing. They travelled miles to see me for outdoor meet-ups at a safe distance. They kept me socialised and normalised. They saved my mental health.
What coping mechanisms did you use during your month in isolation?
By the time the transplant came around, I was desperate to have it. I was due to have an autologous transplant, and it had been nine weeks since my own stem cells had been collected from me. My counsellor (she's brilliant) told me to treat this waiting period as a 'practice recovery'. She helped me to welcome the procedure rather than fear it.
As soon as I arrived at the hospital, the support and guidance of the transplant ward medical team had a monumental impact on me. They gave their time generously to help me stay anchored and accept my situation. My friends were in contact daily, making me feel loved.
I took in photos of my late mother and great-grandmother (both strong, both willing me on) and cards and books my friends had given me. When things got really tough, I'd either read in silence (it's all I felt capable of) or stare at the photos and gifts and find strength and belief in them.
When I started getting better, I finally dared to start thinking of a future beyond transplant – what job I'd like to do, how I'd like to spend my time, how I could best manage reintegrating, how I could give something back say thank you.
How have you been steering your way through recovery?
I've put a lot of focus on my mental health. I've learnt to accept and not resist the things that have happened/are happening to me.
Initially, I was stunned to be alive – more than 100 days after my transplant, I still say 'thank you' every day after I wake up.
I've committed to being more consciously kind and compassionate – both to myself and to other people, and I avoid stressful situations, where possible. I've become much more aware of 'change' and the need to not only adapt to it but also embrace it.
I've also become much more mindful about decision-making. I'm switching my work to something more meaningful and I'm aiming to move closer to the people I love and trust.
This experience has been equal parts physical and mental, but the emotional side of things can get pushed to the side during the journey. It doesn't have to be like this – and it's OK to ask for help.
*Names have been changed
Our free Telephone Emotional Support service enables you to discuss any concerns you may have around transplant or recovery with a team of wellbeing specialists. Find out more: www.anthonynolan.org/tess
If a friend, relative or partner is going through transplant, we can support you too. The help we offer is listed here.