Missing the pub? Missing hanging out with friends? Us too! Never fear, we have something perfectly lifesaving for you to get involved in during this extraordinary time. You can hold a fabulous Big Virtual Quiz to raise vital funds for Anthony Nolan, all from the comfort of your sofa/table/bed/floor*!
*delete as appropriate
What do I need?
All you need is a laptop or phone with access to the internet, and a gang of wonderful friends and family who want to help you raise funds to save the lives of people with blood cancer! Easy.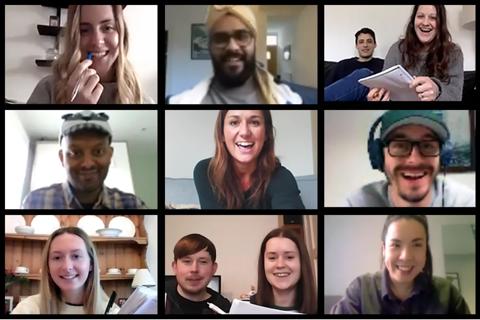 How does it work?
Sign up today
As soon as you sign up, we'll send you a pack including a step-by-step guide, and more quiz questions and answers than you can shake a wooden spoon at. A member of the team will be also be in touch to help get you started and answer any questions you have.

Pick a date and gather your friends and family (virtually)
Let everyone know that you're holding a Big Virtual Quiz, choose a platform to host it on (all explained in your guide), and pick a day and time which suits everyone.

Raise those lifesaving funds!
Set up your Big Virtual Quiz fundraising page. Ask your troop of virtual quizzers to make a donation of between £5-£10 to take part. Your step-by-step guide includes how to set up a JustGiving page if you haven't created one before.

Get quizzin'!
Follow the guidelines in your Big Virtual Quiz pack to hold a seamless quiz. Then give yourself a pat on the back for raising lifesaving funds to give people with blood cancer a second chance of life. You legend, you.
Why we need your help right now
We're all living in extraordinary times. But for people in need of a lifesaving stem cell transplant during the coronavirus pandemic, this time is critical. From extra health checks on our incredible donors, to battling with border closures and travel restrictions to ensure stem cells get to patients who need them to survive, we're pulling out all the stops to ensure lives are saved.
We now need to raise vital extra funds every month that the coronavirus pandemic goes on to fund our emergency work. That's why people like you are so fantastic. By taking on a Big Virtual Quiz, you're supporting an incredible lifesaving effort during this crisis.
Together, we can get through this. Thank you so much.
Without you, there is no cure.